Source: http://sites.uci.edu/zlabe/arctic-temperatures/
Climate scientists are used to seeing the range of weather extremes stretched by global warming but few episodes appear as remarkable as this week's unusual heat over the Arctic. Zack Labe, a researcher at the University of California at Irvine, said average daily temperatures above the northern latitude of 80 degrees have broken away from any previous recordings in the past 60 years...
"To have zero degrees at the North Pole in February - it's just wrong," said Amelie Meyer, a researcher of ice-ocean interactions with the Norwegian Polar Institute. "It's quite worrying."
The so-called Polar Vortex - a zone of persistient low-pressure that typically keeps high-latitude cold air separate from regions further south - has been weakening for decades.
In this instance, "a massive jet of warm air" is penetrating north, sending a cold burst southwards, said Dr Meyer, who has relocated to Hobart to research on the southern hemisphere, and is hosted by Institute for Marine and Antarctic Studies.
"The anomalies are really extreme," Andrew King, a lecturer in climate science at the University of Melbourne, said. "It's a very interesting event."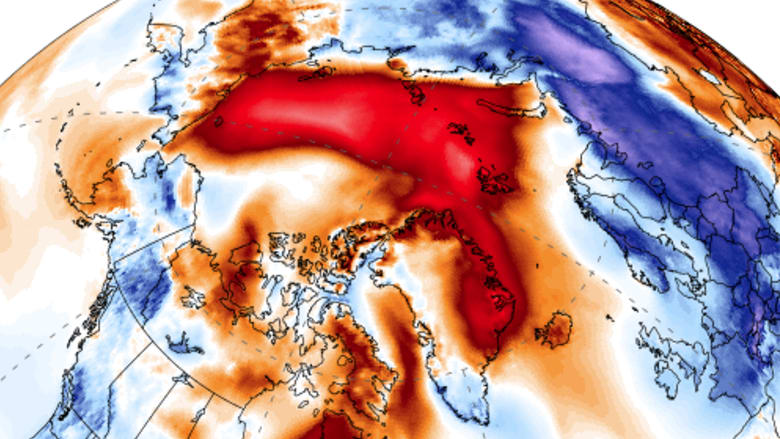 "It's just wrong": This week's unusual burst of heat over the Arctic. Photo: Climate Reanalyzer
Warm, moist air is penetrating much further north than it would normally at a time when the North Pole is in complete darkness.
Cape Morris Jessup, the world's most northerly land-based weather station, in Greenland, touched 6 degrees late on Saturday, about 35 degrees above normal for this time of year.
Robert Rohede, a Zurich-based scientist with Berkeley Earth, posted on Twitter that Cape Morris Jessup had already recorded 61 hours above freezing so far in 2018.
The previous record of such relative was just 16 hours recorded to the end of April in 2011.
"Parts of Greenland are quite a bit warmer than most of Europe," Dr King said.
The cold snap will sink temperatures moderately below freezing in London each day until Friday. However, cities such as Berlin will dive to as low as minus 12 degrees and Moscow to minus 24.
With a weak jetstream, surface winds are taking an unusual course - bringing snow from the east and prompting some commentators to dub the event the "Beast from the East".
"For Britain and Ireland, most weather systems would typically blow in from the west, but [on Tuesday] we will see a cold front cross Britain from the east," Dr King said.
 

There is open water north of #Greenland where the thickest sea ice of the #Arctic used to be. It is not refreezing quickly because air temperatures are above zero confirmed by @dmidk's weather station #KapMorrisJesup. Wacky weather continues with scary strength and persistence.
Along with the unusual warmth over the Arctic, scientists are monitoring the retreat of sea ice in the Bering Sea.
The ice coverage in the region is now at levels previously seen only in May or June, Mr Labe posted on Twitter, citing data from the US National Snow and Ice Data Centre.
While climate change itself is only likely to have exacerbated regional weather variability, the long-term shrinkage of sea ice has a reinforcing effect on global warming in a region already warming faster than anywhere else on the planet, Dr King said.
Ice reflects sunlight back to space. When it melts, the sea ice exposes more of the dark ocean beneath, which then absorbs that solar radiation, adding to the warming.
Sea ice coverage is currently at or close to record low levels at both the Arctic and Antarctic regions.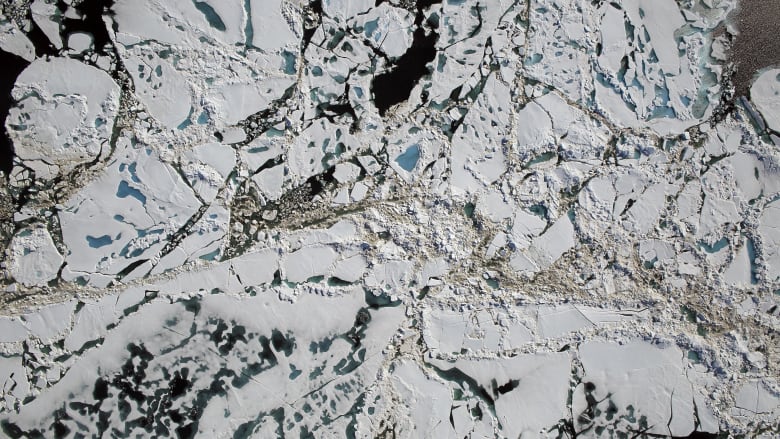 The Arctic Ocean has endured another warmer-than-average winter in a region that is warming much faster than the rest of the planet. Photo: NASA
The impact of the relatively warm air in the Arctic could play out for months to come. Multi-year ice is likely to be thinner and more cracked, leading to a faster melt when spring arrives, Dr Meyer said.
While researchers had pegged 2050 as a possible year when the Arctic will become ice-free, this winter and the previous one - also unusually warm - had thrown those estimates out.
"It's going much faster than we thought," said Dr Meyer, who will begin work later this year at the ARC Centre of Excellence for Climate Extremes.
By Peter Hannam
26 February 2018
source: https://www.smh.com.au/
original story HERE
Sign up for the Global Warming Blog for free by clicking here. In your email you will receive critical news, research and the warning signs for the next global warming disaster.
Click here to learn how global warming has become irreversible and what you can do to protect your family and assets.
Click here to learn about the most disruptive new book on global warming facts and research. Climageddon, The Global warming Emergency and How to Survive it.
To share this blog post: Go to the original shorter version of this post. Look to lower right for the large green Share button.
To view our current agreement or disagreement with this blog article, click here.