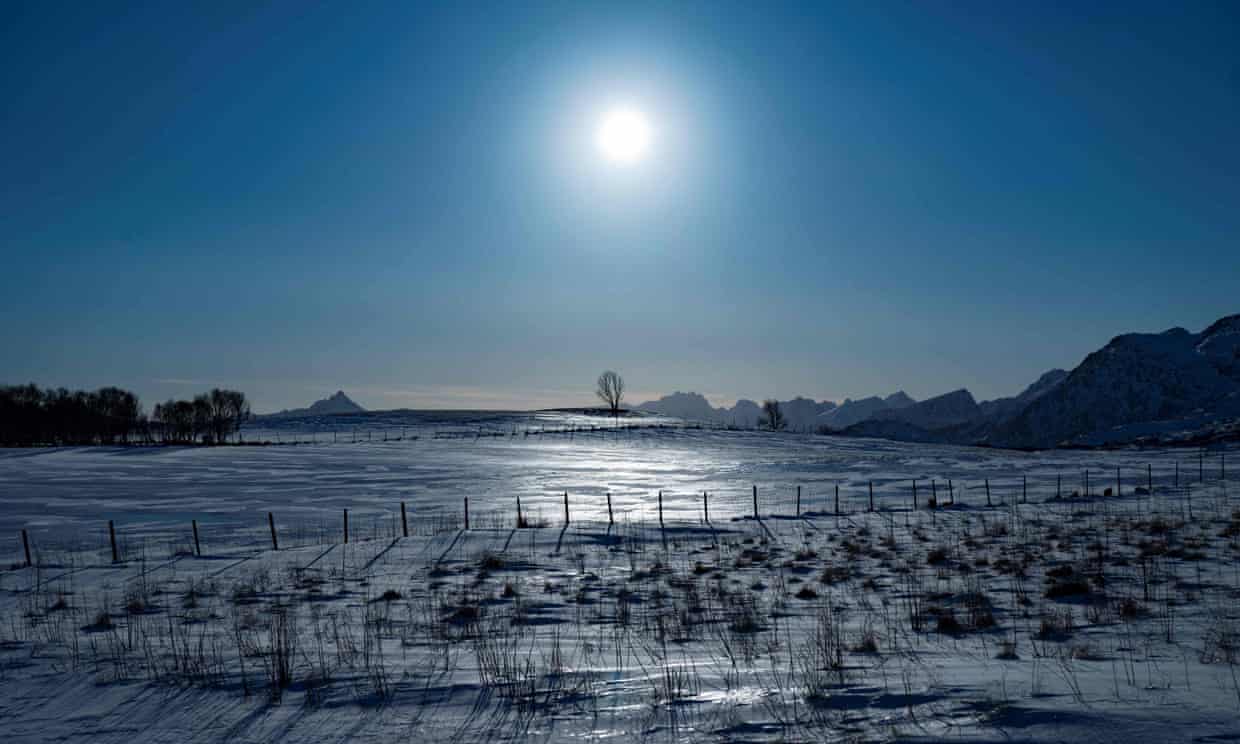 Frozen fields on the Lofoten Islands in the Arctic Circle in northern Norway. Scientists say conditions in the region are unprecedented. Photograph: Olivier Morin/AFP/Getty Images
Sea ice has hit record lows for time of year as experts say global warming probably fueled big storms in Europe and north-eastern US...
The Arctic winter has ended with more news that is worrying even the scientists who watch the effects of climate change closely.
The region experienced its warmest winter on record. Sea ice hit record lows for the time of year, new US weather data revealed on Tuesday.
"It's just crazy, crazy stuff," said Mark Serreze, director of the National Snow and Ice Data Center in Boulder, Colorado, who has been studying the Arctic since 1982. "These heat waves – I've never seen anything like this."
Experts say what's happening is unprecedented, part of a global warming-driven cycle that probably played a role in the recent strong, icy storms in Europe and the north-eastern US.
The land weather station closest to the North Pole, at the tip of Greenland, spent more than 60 hours above freezing in February. Before this year, scientists had seen the temperature there rise above freezing in February only twice before, and then extremely briefly. Last month's record-high temperatures have been more like those typical of May, said Ruth Mottram, a climate scientist at the Danish Meteorological Institute.
Of nearly three dozen different Arctic weather stations, 15 of them were at least 10F (5.6C) above normal for the winter.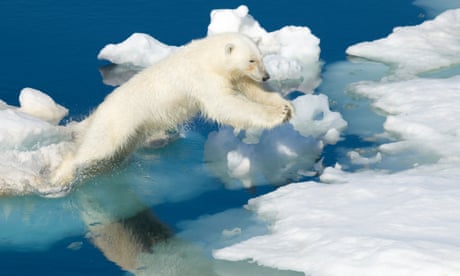 "The extended warmth really has staggered all of us," Mottram said.
In February, Arctic sea ice covered 5.4m sq miles, about 62,000 sq miles smaller than last year's record low, the ice data center reported, and it was 521,000 square miles below the 30-year normal.
Sea ice is frozen ocean water that, in contrast to icebergs and glaciers, forms, grows and melts on the ocean. It is still growing, but "whatever we grow now is going to be thin stuff" that easily melts in the summer, Serreze said.
Something similar has been noted in the Pacific with open water on the normally iced-up Bering Sea, said the data center senior scientist Walt Meier. To be happening on opposite sides of the Arctic at the same time was unusual, he added.
"Climate change is the overriding thing," Meier said.
Sign up for the Global Warming Blog for free by clicking here. In your email you will receive critical news, research and the warning signs for the next global warming disaster.
Click here to learn how global warming has become irreversible and what you can do to protect your family and assets.
Click here to learn about the most disruptive new book on global warming facts and research. Climageddon, The Global warming Emergency and How to Survive it.
To share this blog post: Go to the original shorter version of this post. Look to lower right for the large green Share button.
To view our current agreement or disagreement with this blog article, click here.