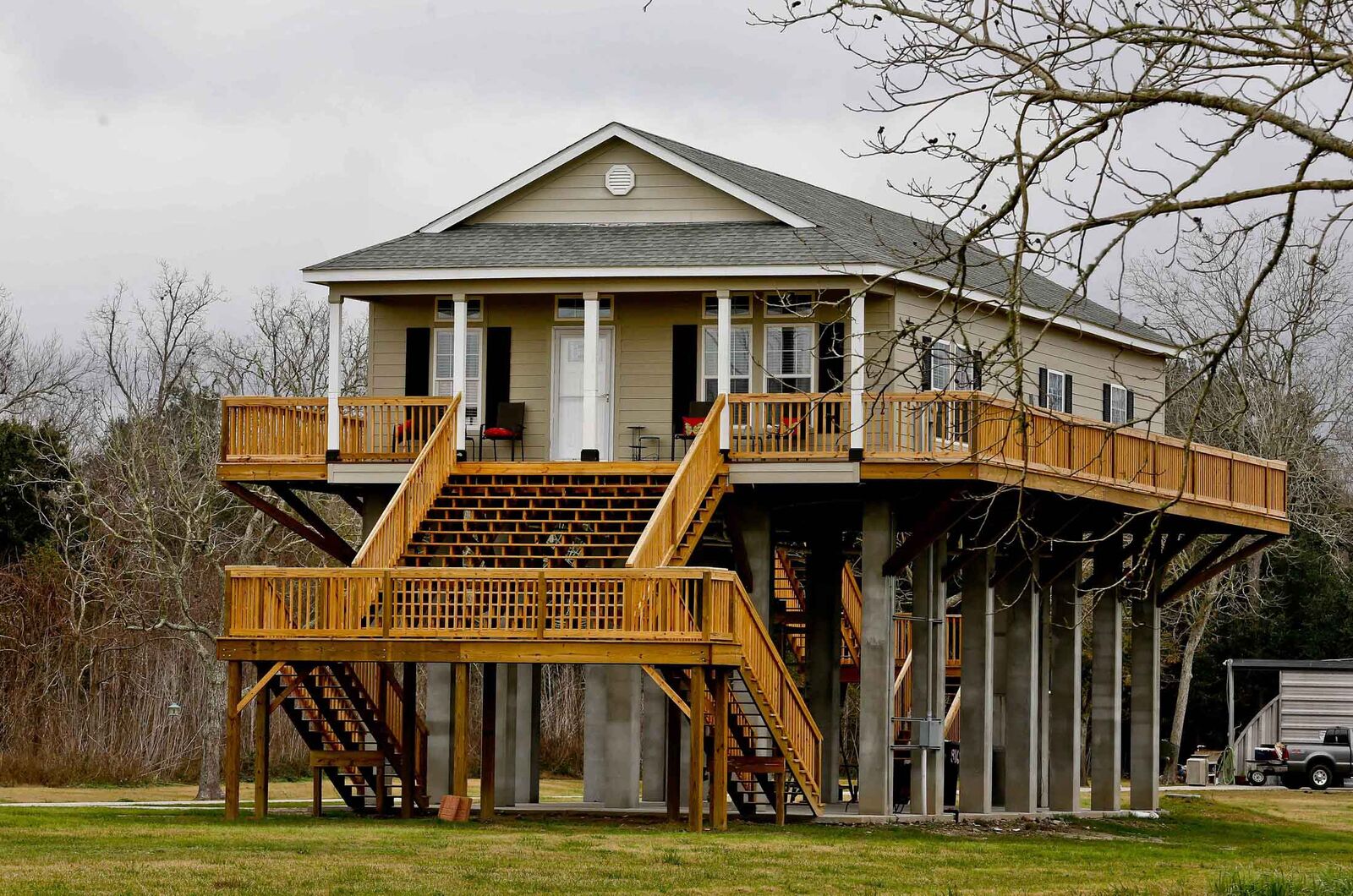 An elevated home stands in Pointe a La Hache, Louisiana, on Jan.19, 2017. The state's 7,700-mile shoreline is disappearing at the fastest rate in the U.S. Photographer: Derick E. Hingle/Bloomberg
From record-breaking wildfires, floods and hurricanes to innovations in energy, transport and agriculture, Bloomberg presents our climate photos of the year...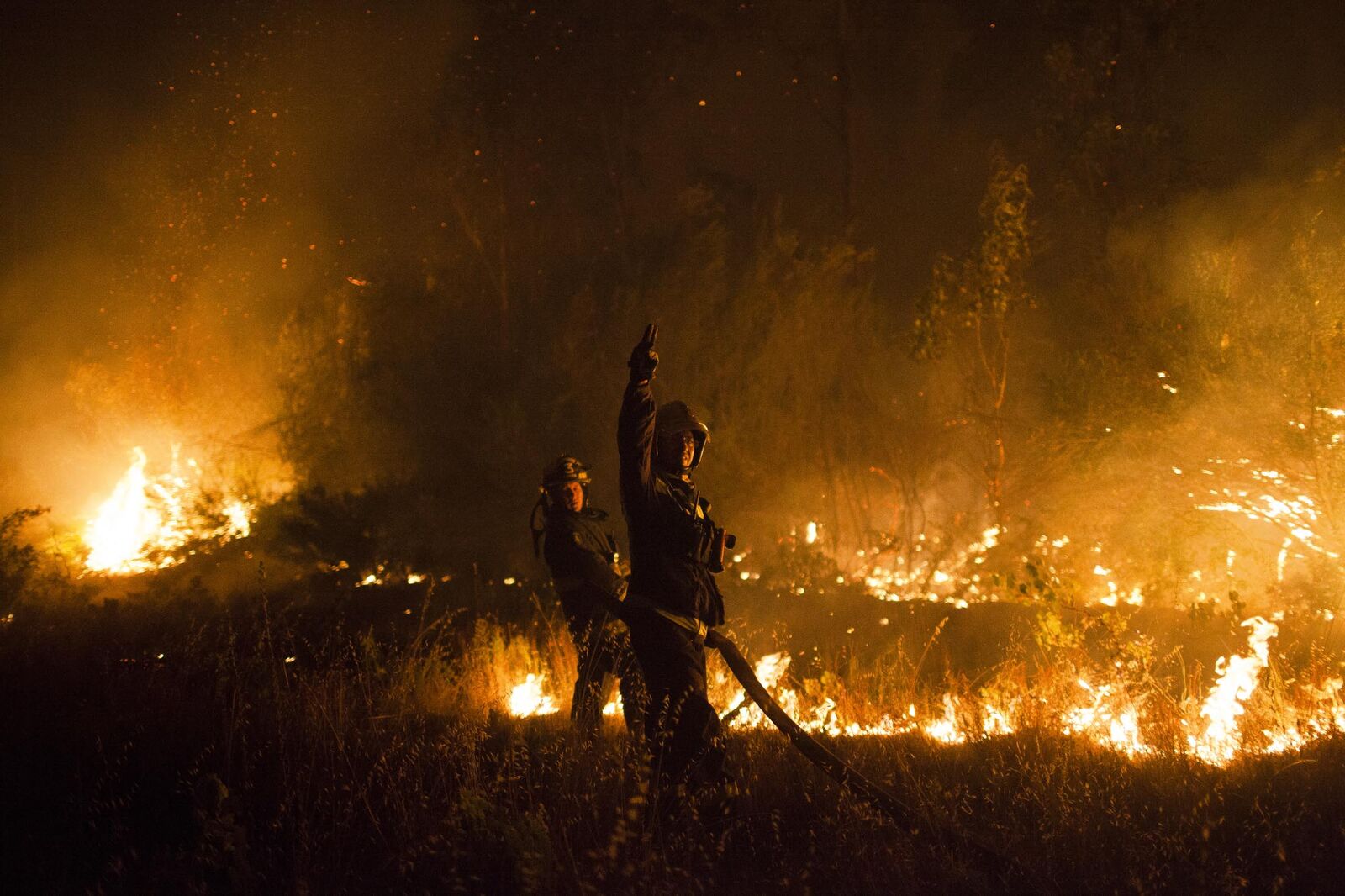 Firefighters work to put out a wildfire at a forest in the town of San Ramon in Constitucion, Chile, on Jan. 26, 2017. Michelle Bachelet, Chile's president, called the fires the worst forestry disaster in the country's history.
Photographer: Cristobal Olivares/Bloomberg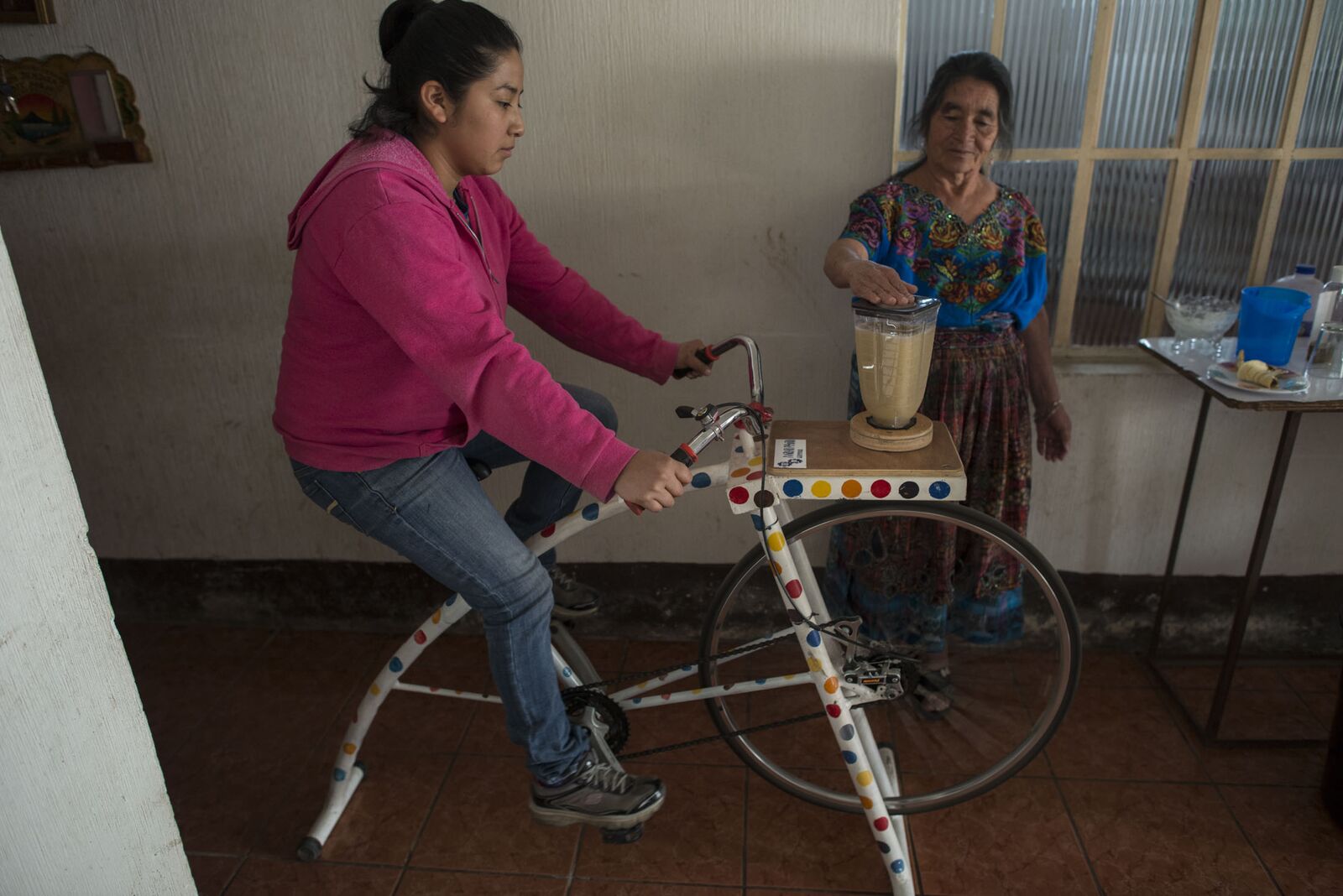 A family uses a Maya Pedal "Bicimaquina," a pedal-powered machine, to make a smoothie in San Andres, Iztapa, Guatemala on Feb. 16, 2017. Maya Pedal builds a range of "bicimaquinas" from bicycles donated from the U.S. and Canada. Bicimaquinas free the user from rising energy costs and produce no pollution.
Photographer: Daniele Volpe/Bloomberg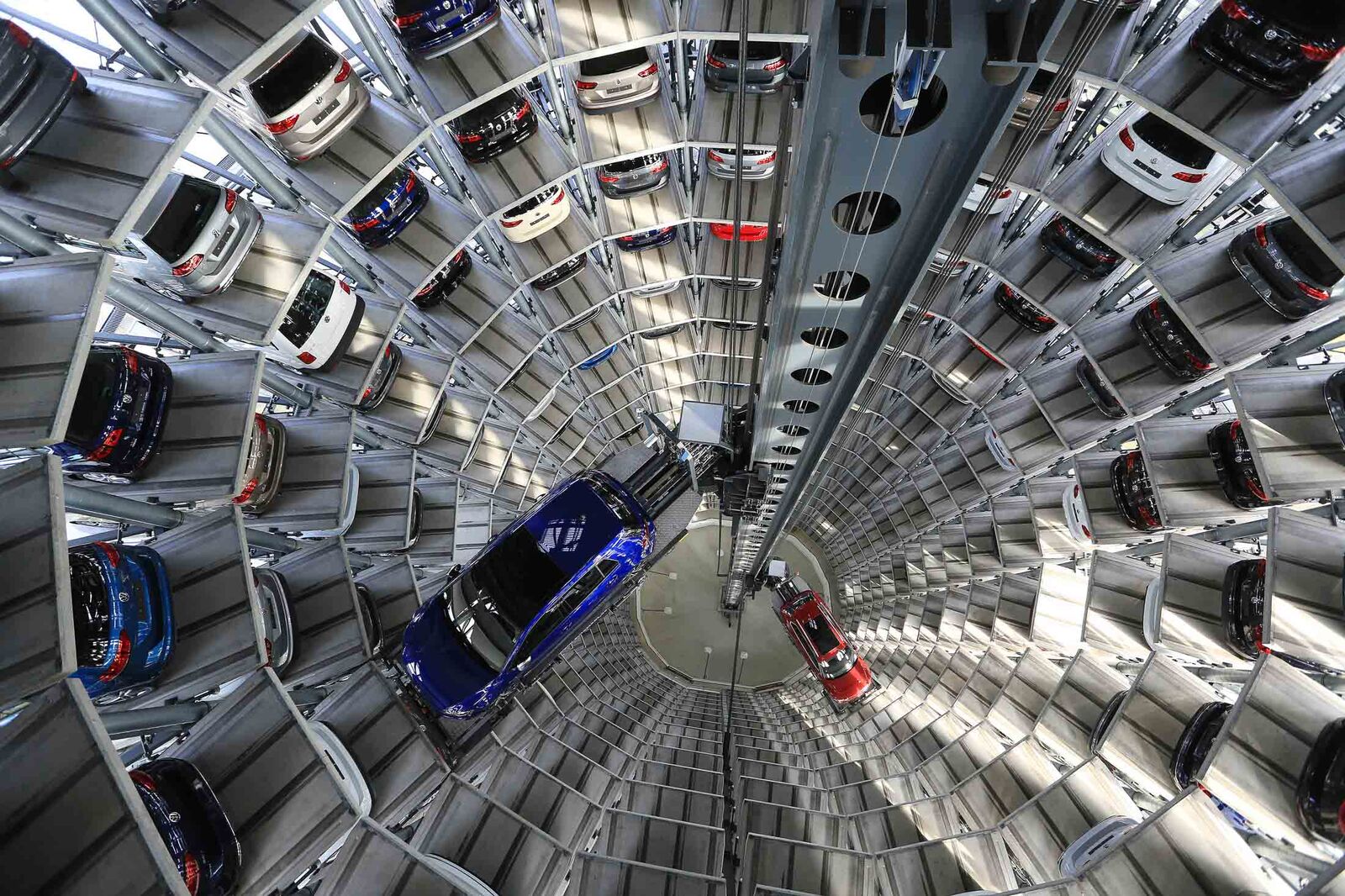 A Golf automobile (left) and a Tiguan sports utility vehicle produced by Volkswagen AG are transported on elevation platforms as new VW automobiles sit in storage bays inside one of the automaker's glass delivery towers at the company's factory in Wolfsburg, Germany, on March 14, 2017. Volkswagen has contended with a diesel scandal since September 2015.
Photographer: Krisztian Bocsi/Bloomberg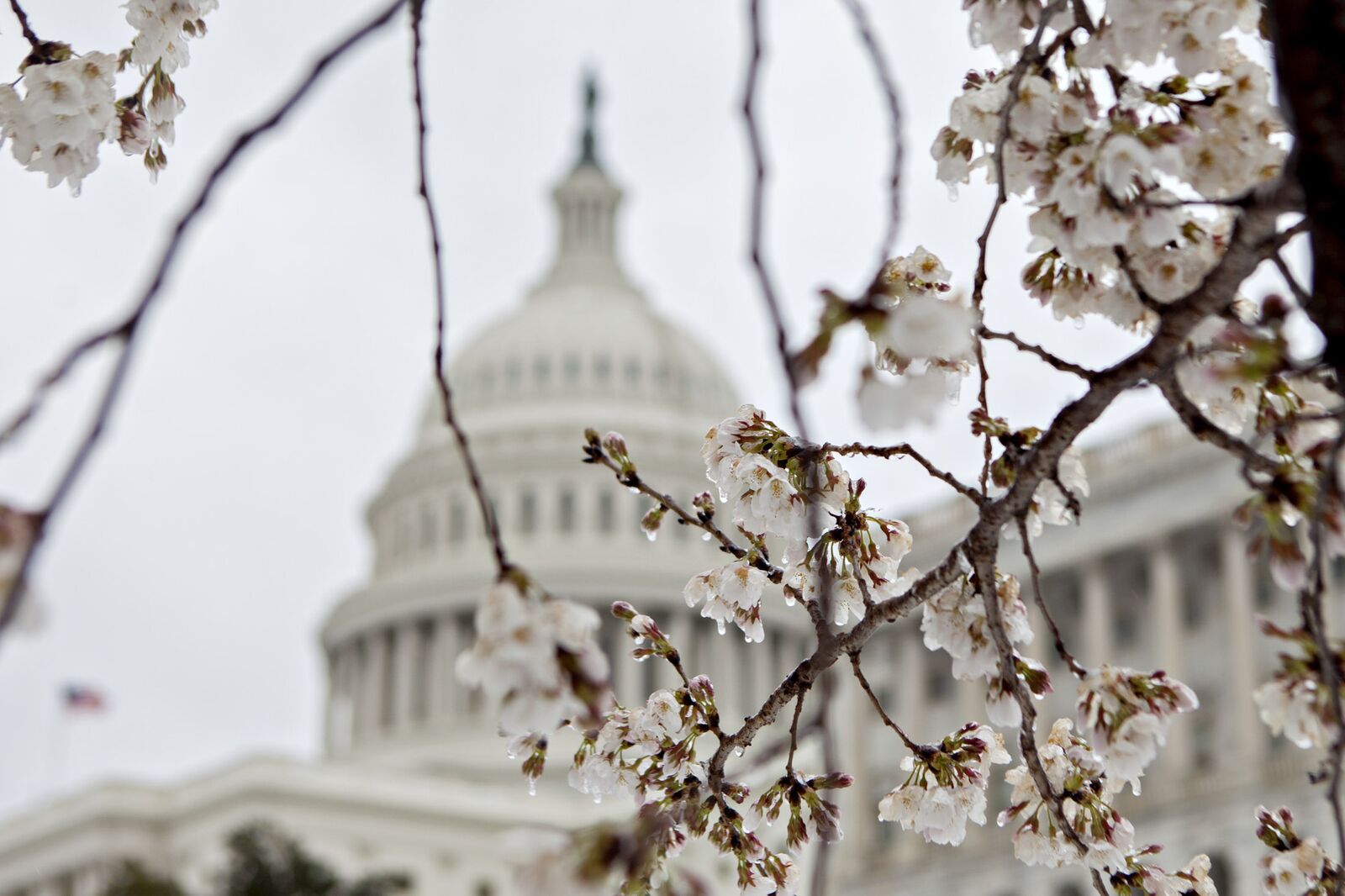 Frozen cherry tree blossoms near the U.S. Capitol building in Washington on March 14, 2017. 
Photographer: Andrew Harrer/Bloomberg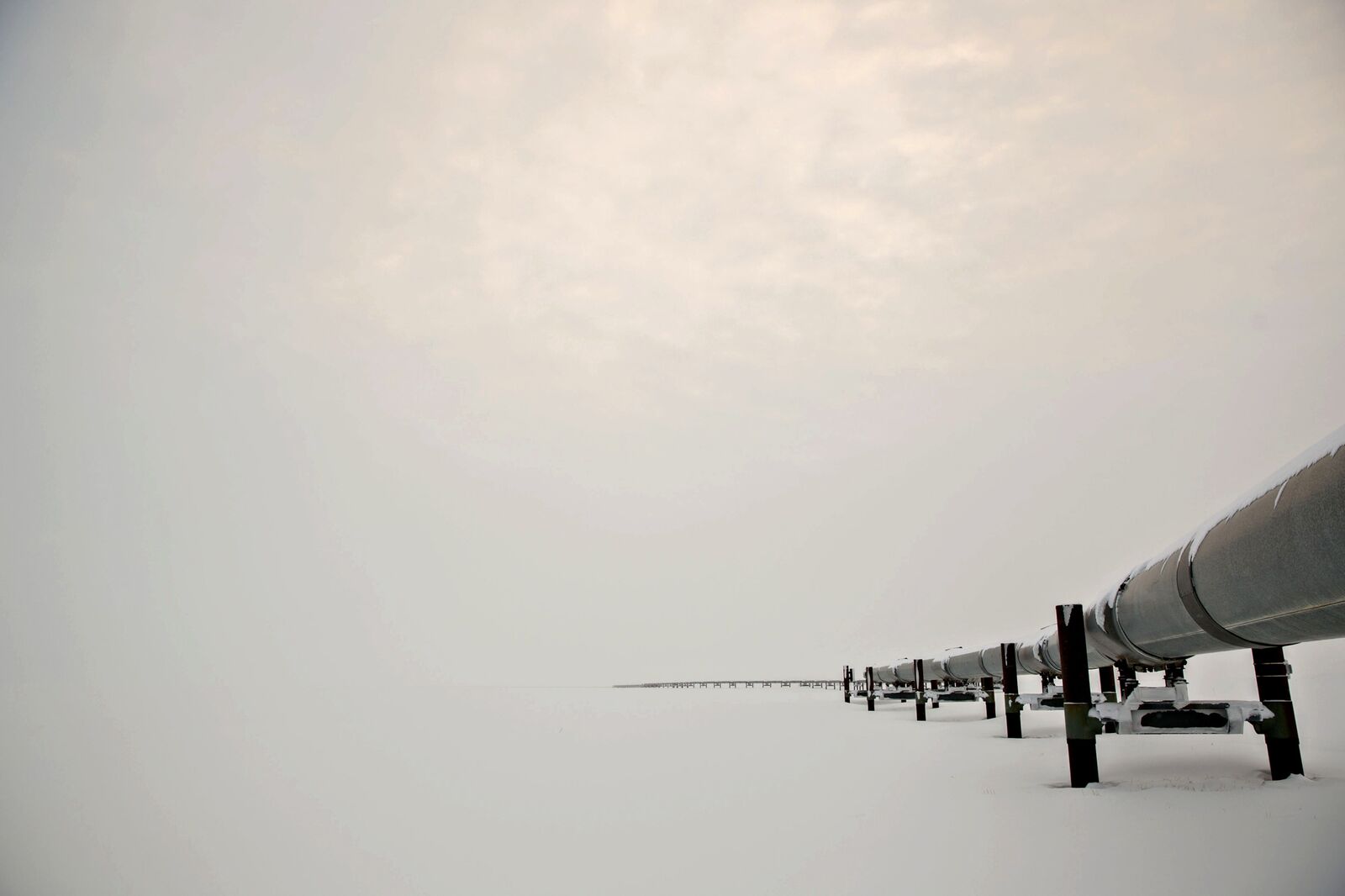 The first mile of the 800-mile Trans-Alaska Pipeline extends across the frozen tundra near the Alyeska Pipeline Services Co. pump station in Prudhoe Bay, Alaska, on Feb. 16, 2017. Four decades after the Trans Alaska Pipeline System went live, transforming the North Slope into a modern-day Klondike, many Alaskans fear the best days have passed.
Photographer: Daniel Acker/Bloomberg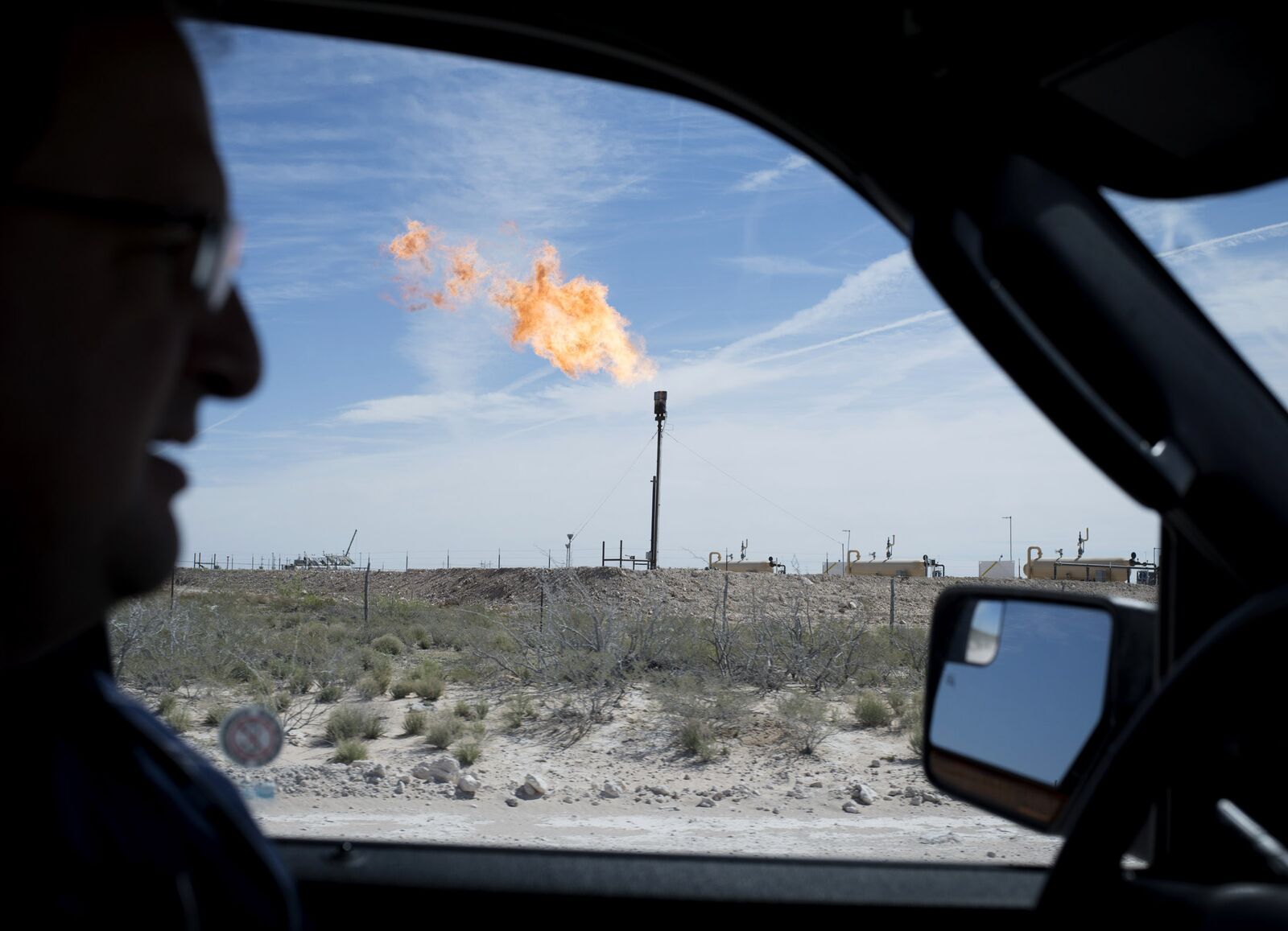 Gas flares near Mentone, Texas, on March 2, 2017. Exxon Mobil Corp., Royal Dutch Shell and Chevron Corp. are jumping into American shale with gusto, planned to spend a combined $10 billion this year, up from next to nothing only a few years ago.
Photographer: Matthew Busch/Bloomberg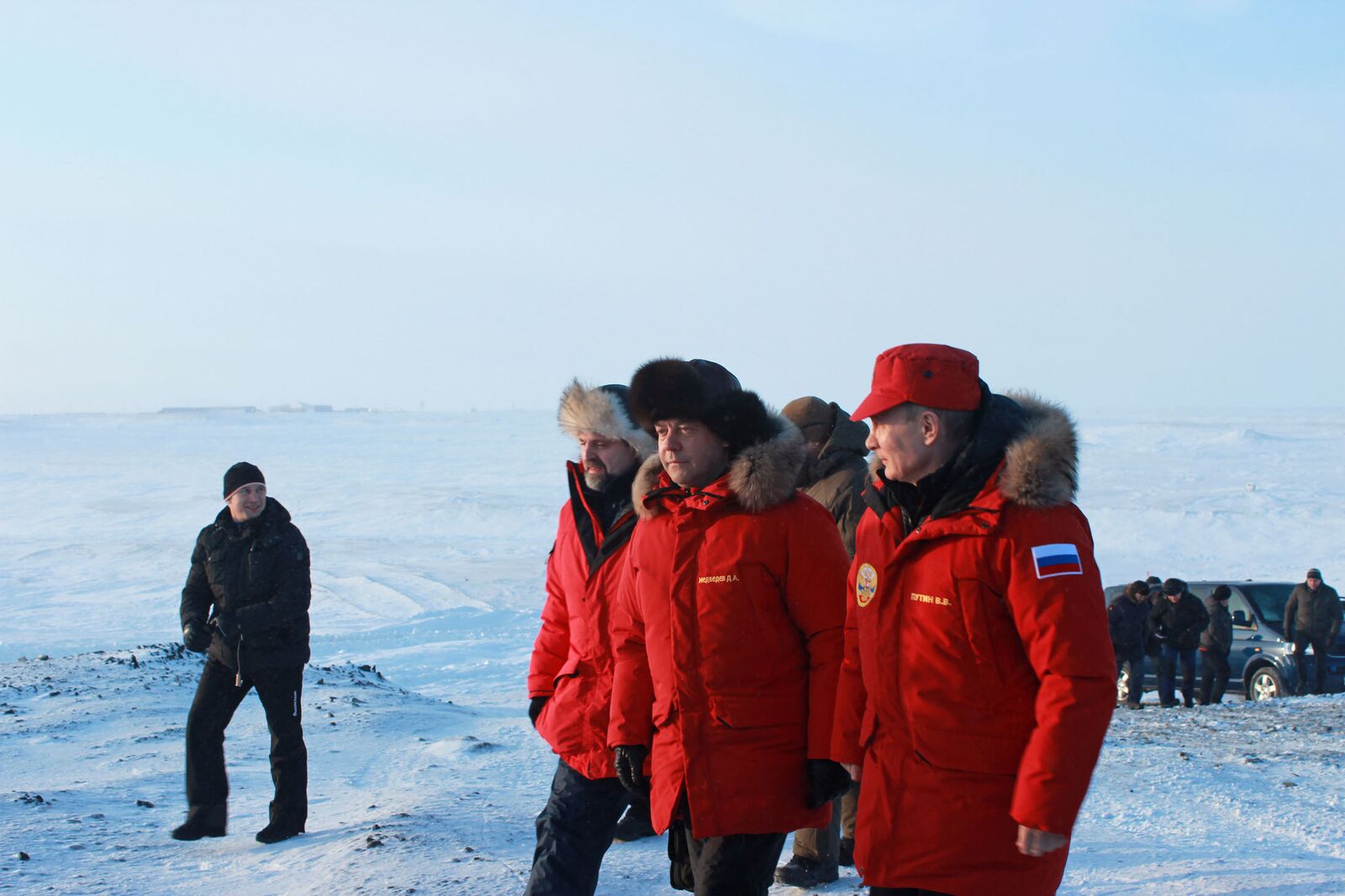 Vladimir Putin, Russia's president (right), Dmitry Medvedev, Russia's prime minister (center) and Sergei Donskoi, Russia's natural resources minister, visit an environmental clean-up operation on Alexandra Land Island in the Franz Josef Land archipelago, Russia, on March 29, 2017. Coastal shipping at the top of the world, first tested in the 19th century and made increasingly viable in summertime by global warming, is losing its international shine in an era of cheap oil.
Photographer: Anna Andrianova/Bloomberg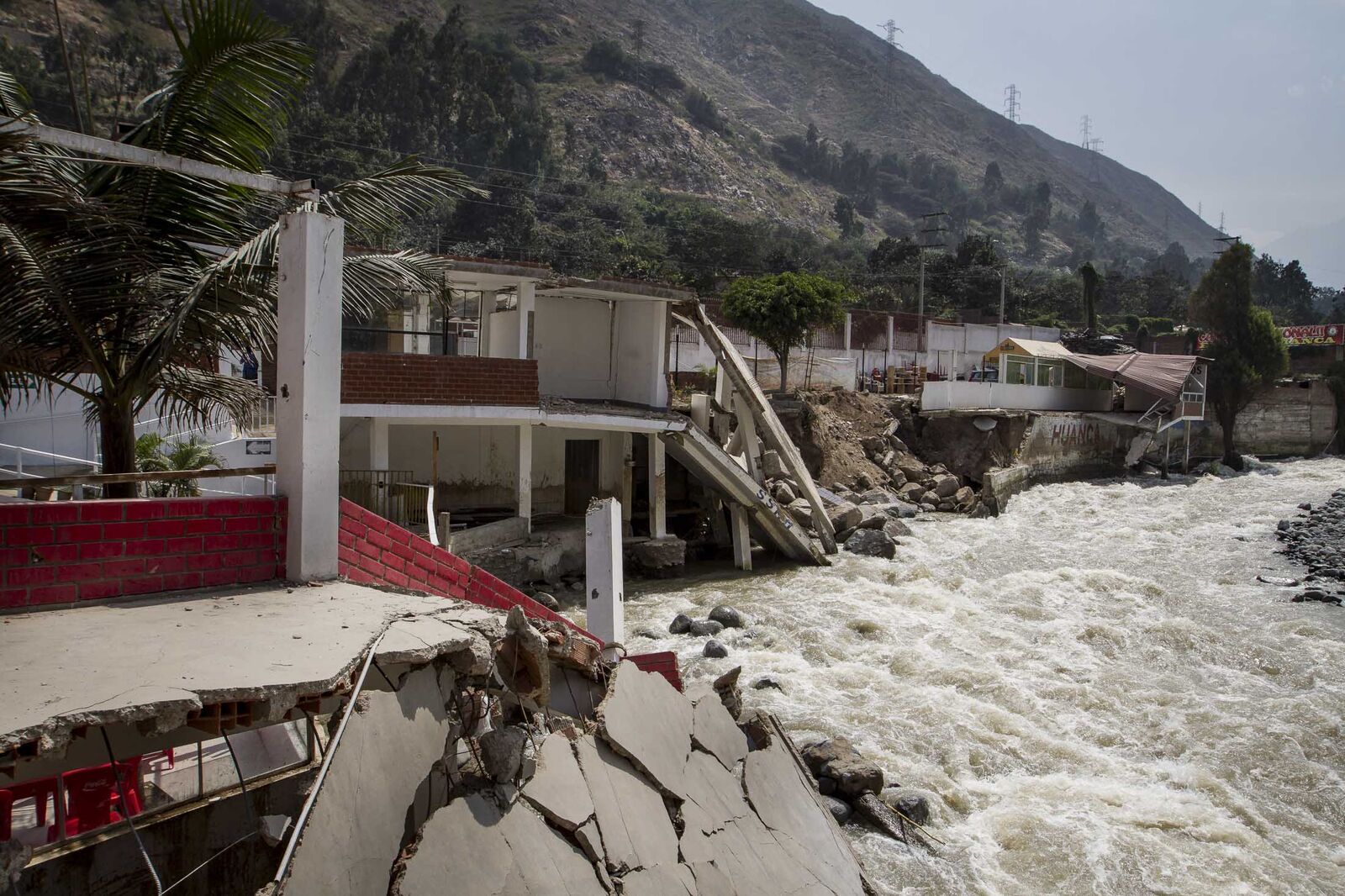 A restaurant destroyed by massive floods in the district of Santa Eulalia, Huarochiri Province, in Peru's Lima Region on April 22, 2017. Finance Minister Alfredo Thorne said Peru's economy would bounce back from the worst flooding in two decades as the government created a $3 billion fund to finance rebuilding.
Photographer: Guillermo Gutierrez/Bloomberg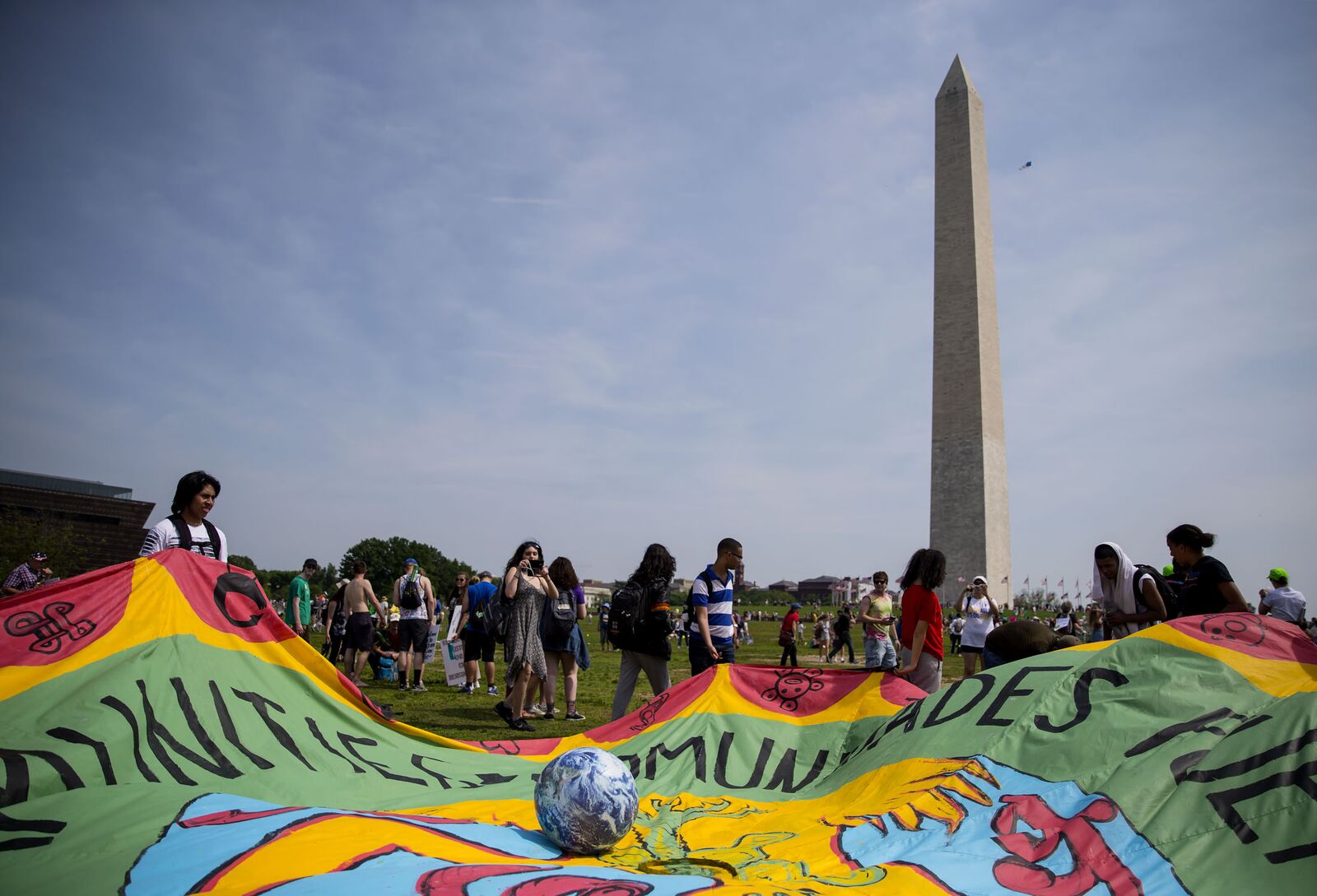 Demonstrators gather near the Washington Monument during the People's Climate Movement March in Washington on April 29, 2017. Coinciding with U.S. President Donald Trump's 100th day in office, the People's Climate Movement March sought to bring attention to—and strengthen—climate reform efforts in the context of Trump administration changes in environmental policy.
Photographer: Eric Thayer/Bloomberg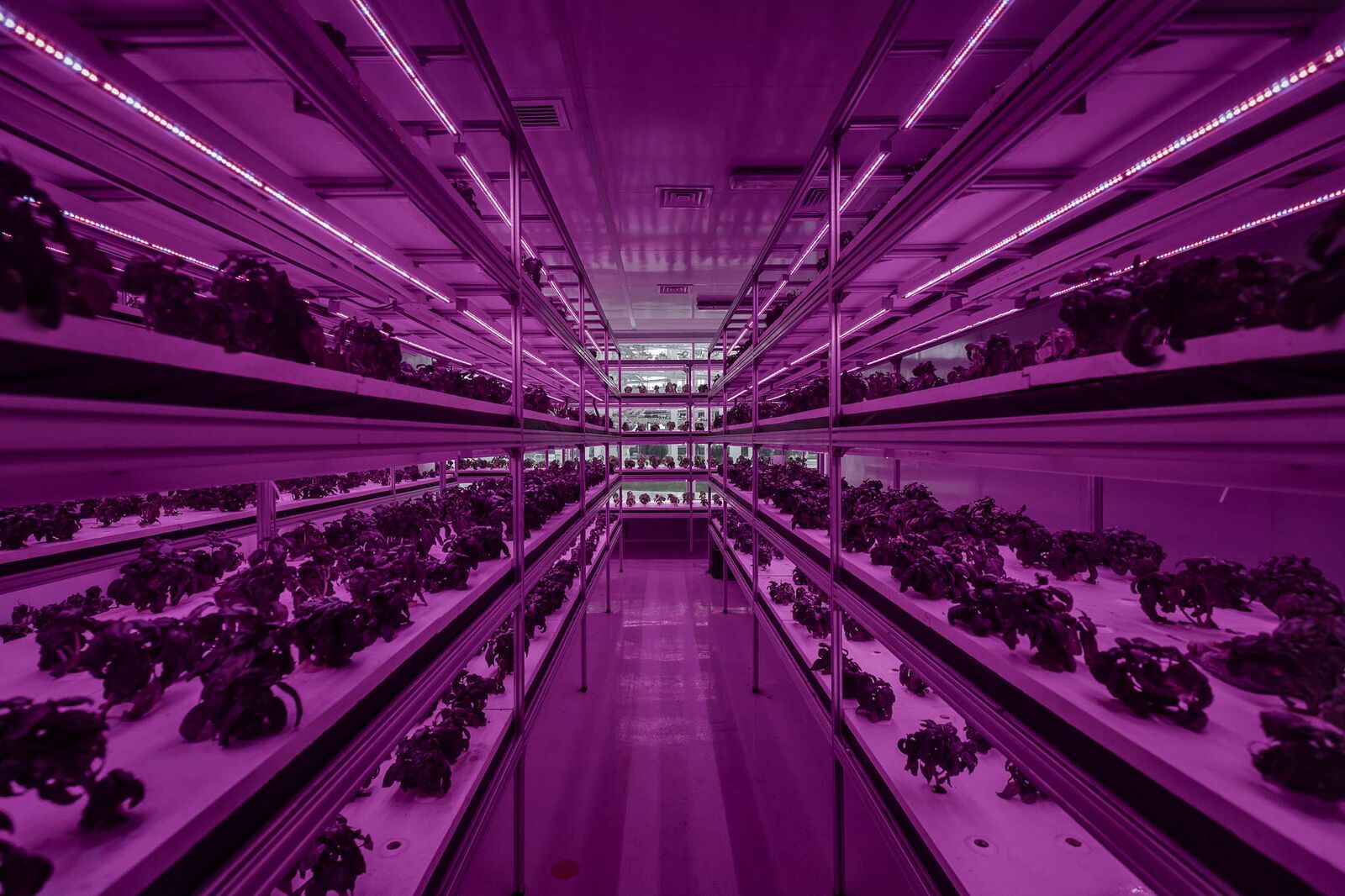 Vegetables grow on shelves under light-emitting diode (LED) lights inside a greenhouse at the high-tech, indoor Cofco Wisdom Farm operated by Cofco Corp. on the outskirts of Beijing on Feb. 20, 2017. China is turning to technology to make its land productive again. The silver bullet would be to eliminate emissions and industrial waste, an unrealistic option for a developing, $11 trillion economy.
Photographer: Qilai Shen/Bloomberg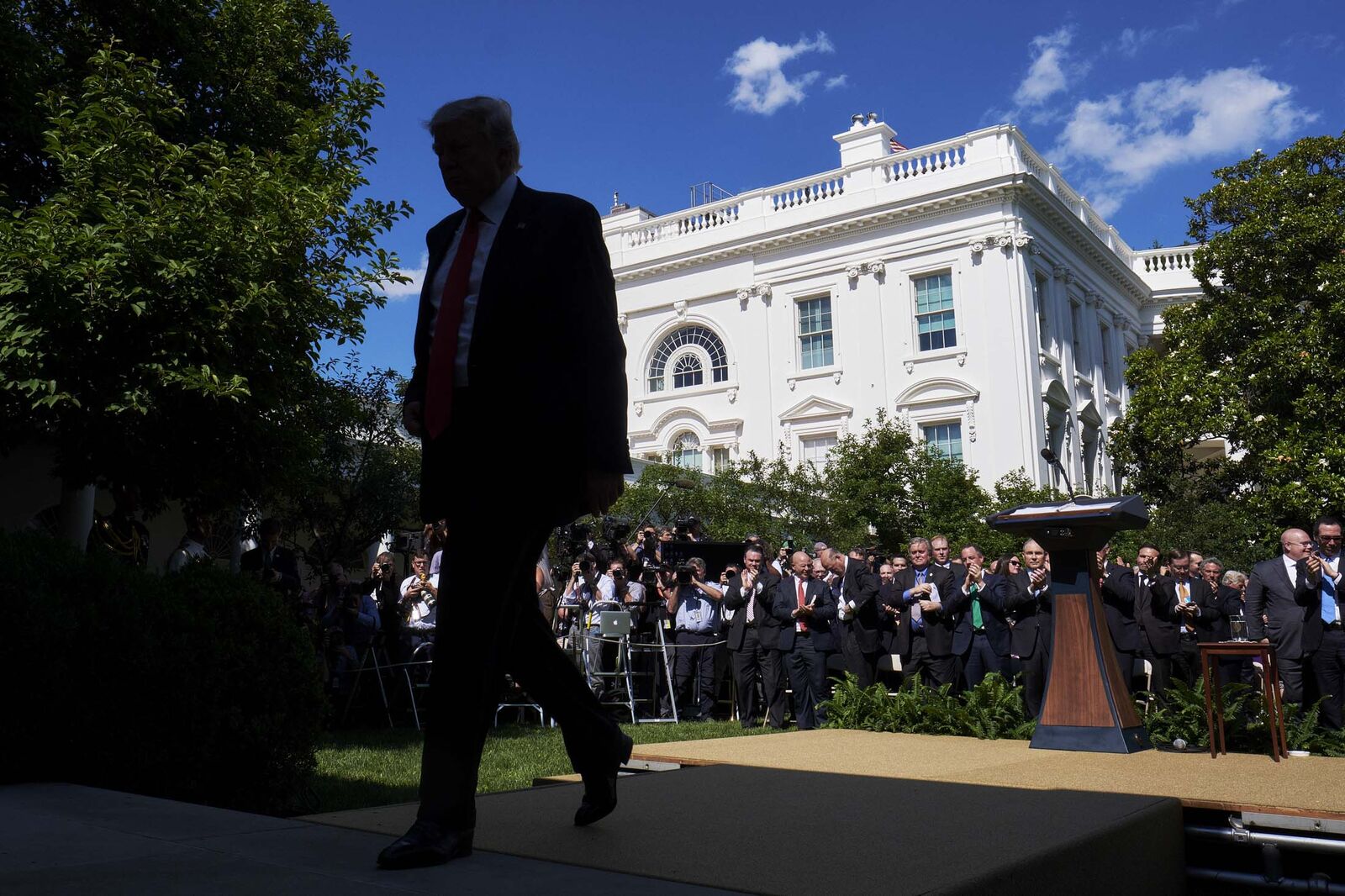 President Donald Trump exits following an announcement in the Rose Garden of the White House in Washington on June 1, 2017. Trump said the U.S. would withdraw from the Paris climate pact and that he would seek to renegotiate the international agreement in a way that treats American workers better.
Photographer: T.J. Kirkpatrick/Bloomberg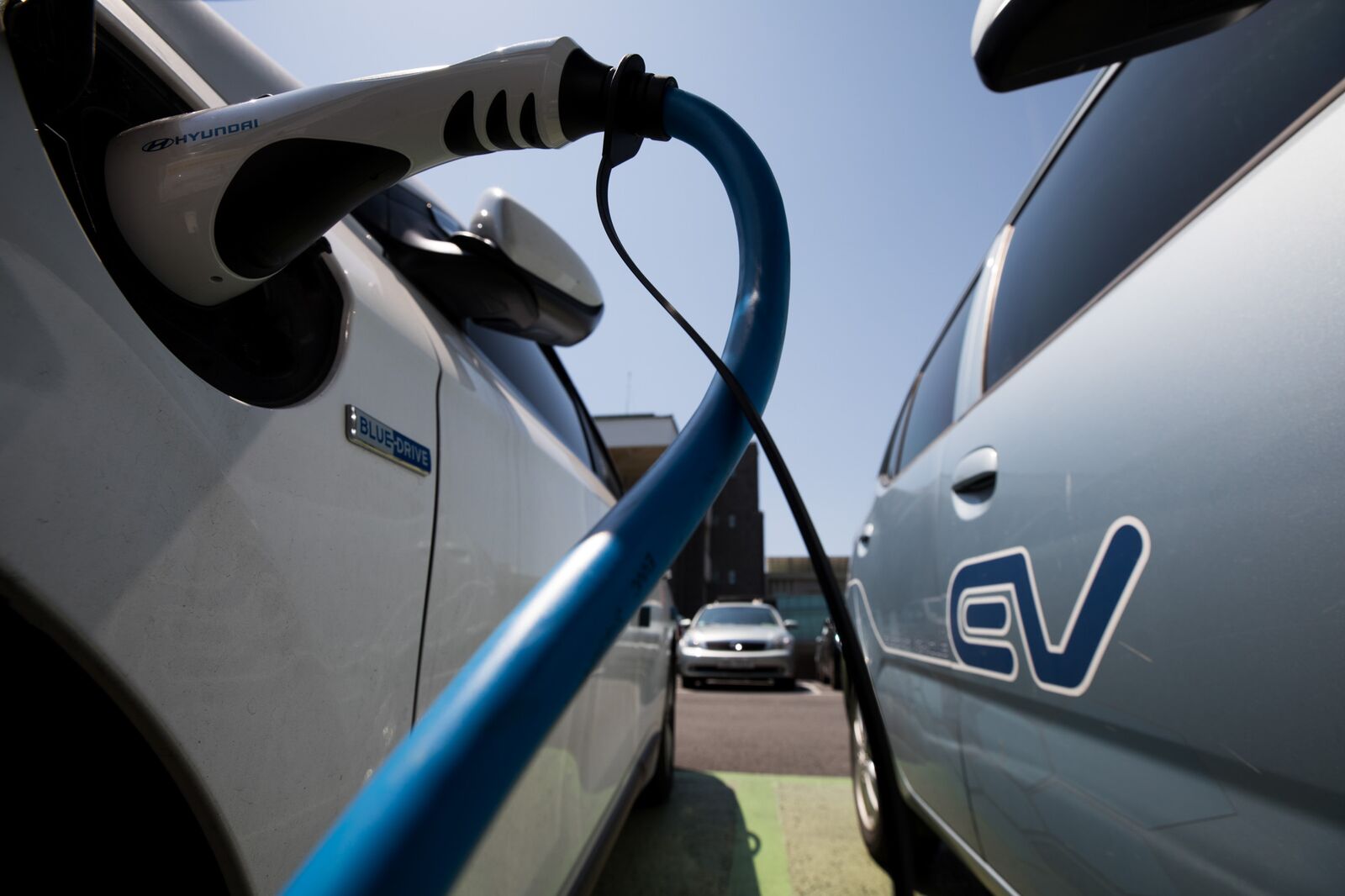 A charging plug connected to an electric vehicle at a charging station in Jeju, South Korea, on June 15, 2017. The election of Moon Jae-in, who supports policies favoring natural gas and renewables at the expense of nuclear and coal, as South Korea's new president implies a shift in the nation's approach to energy, according to Bloomberg New Energy Finance.
Photographer: SeongJoon Cho/Bloomberg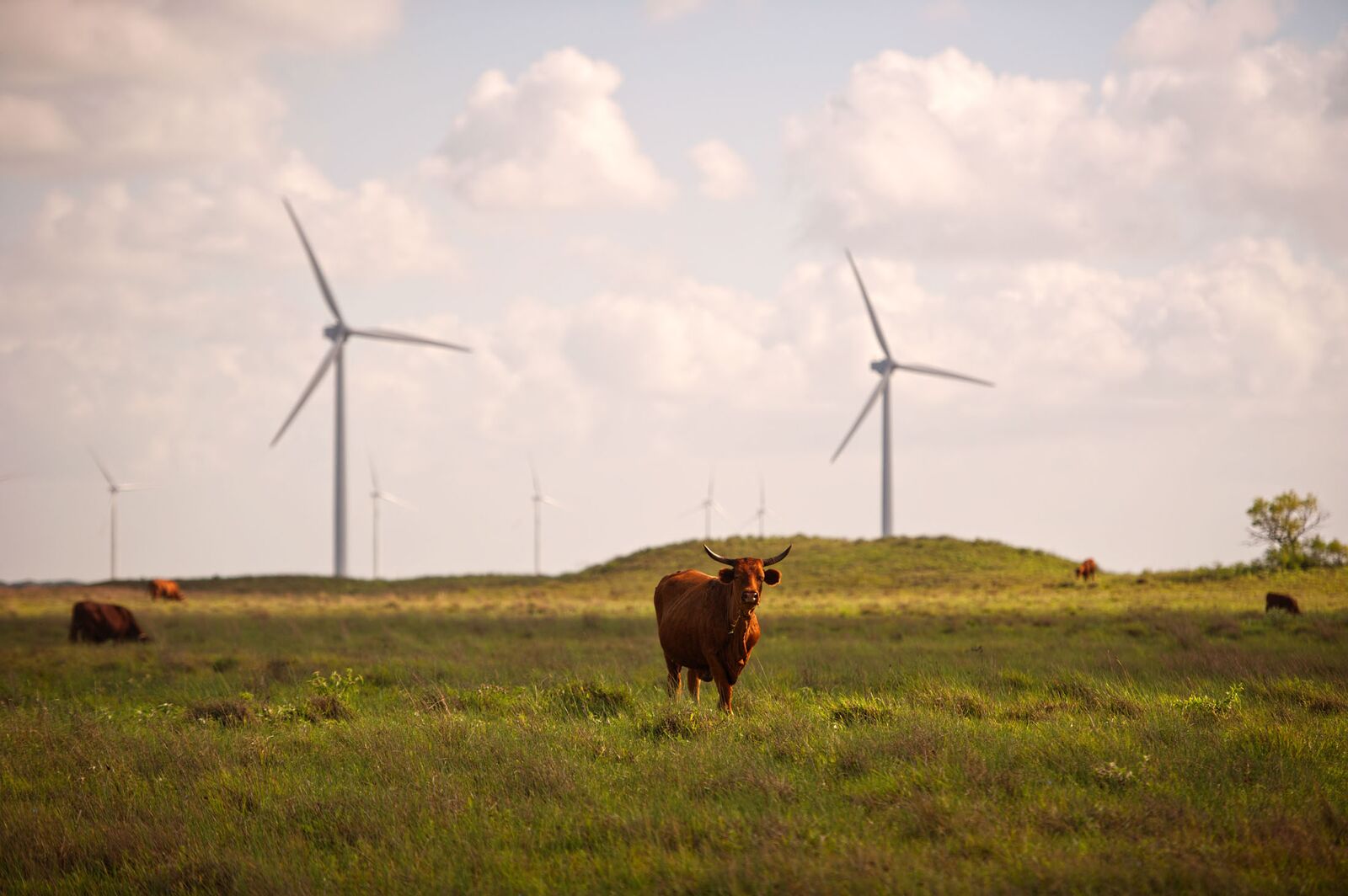 Cattle graze near wind turbines at Avangrid Inc.'s Baffin Wind Power Project in Sarita, Texas, on June 14, 2017. In the cutthroat Texas energy market, the construction of coastal wind turbines—some 900 in all—has had a profound impact. It's been terrific for consumers, helping to drive down electricity bills, but horrible for natural gas-fired generators.
Photographer: Eddie Seal/Bloomberg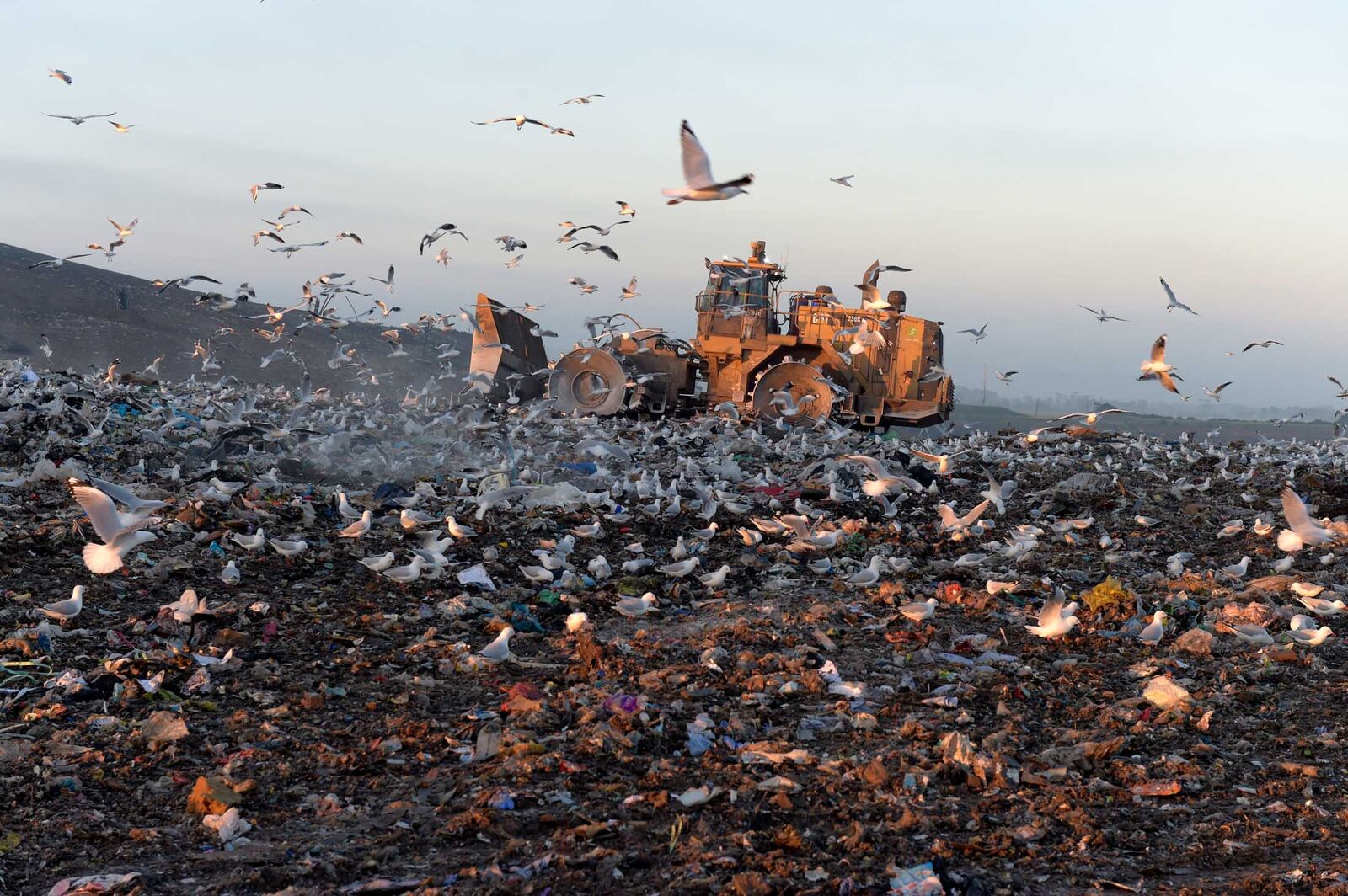 A bulldozer moves garbage in a landfill cell at the Melbourne Regional Landfill site operated by Cleanaway Waste Management Ltd. in Ravenhall, Victoria, Australia, on June 14, 2017. Cleanaway, the nation's largest garbage company, has the potential to extract enough gas from rotting rubbish to produce electricity for as many as 80,000 homes, according to Chief Executive Officer Vik Bansal.
Photographer: Carla Gottgens/Bloomberg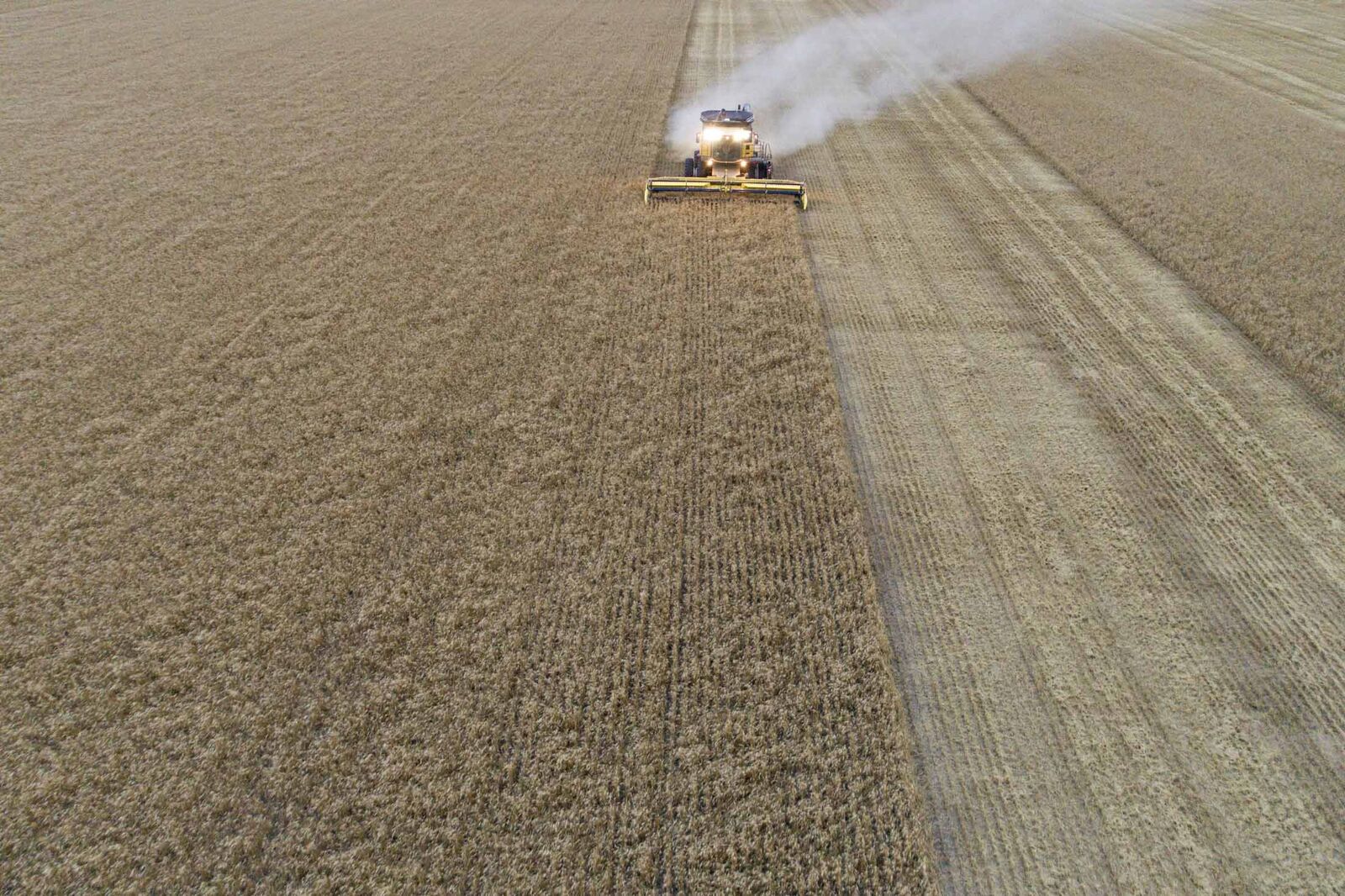 Hard, red winter wheat is harvested with a CNH Industrial NV combine harvester in Plainville, Kansas, on June 28, 2017. Spring wheat prices posted wide swings after reaching a four-year high as traders weighed prospects for an intensifying drought in the High Plains against signs that U.S. supplies aren't competitive in export markets.
Photographer: Daniel Acker/Bloomberg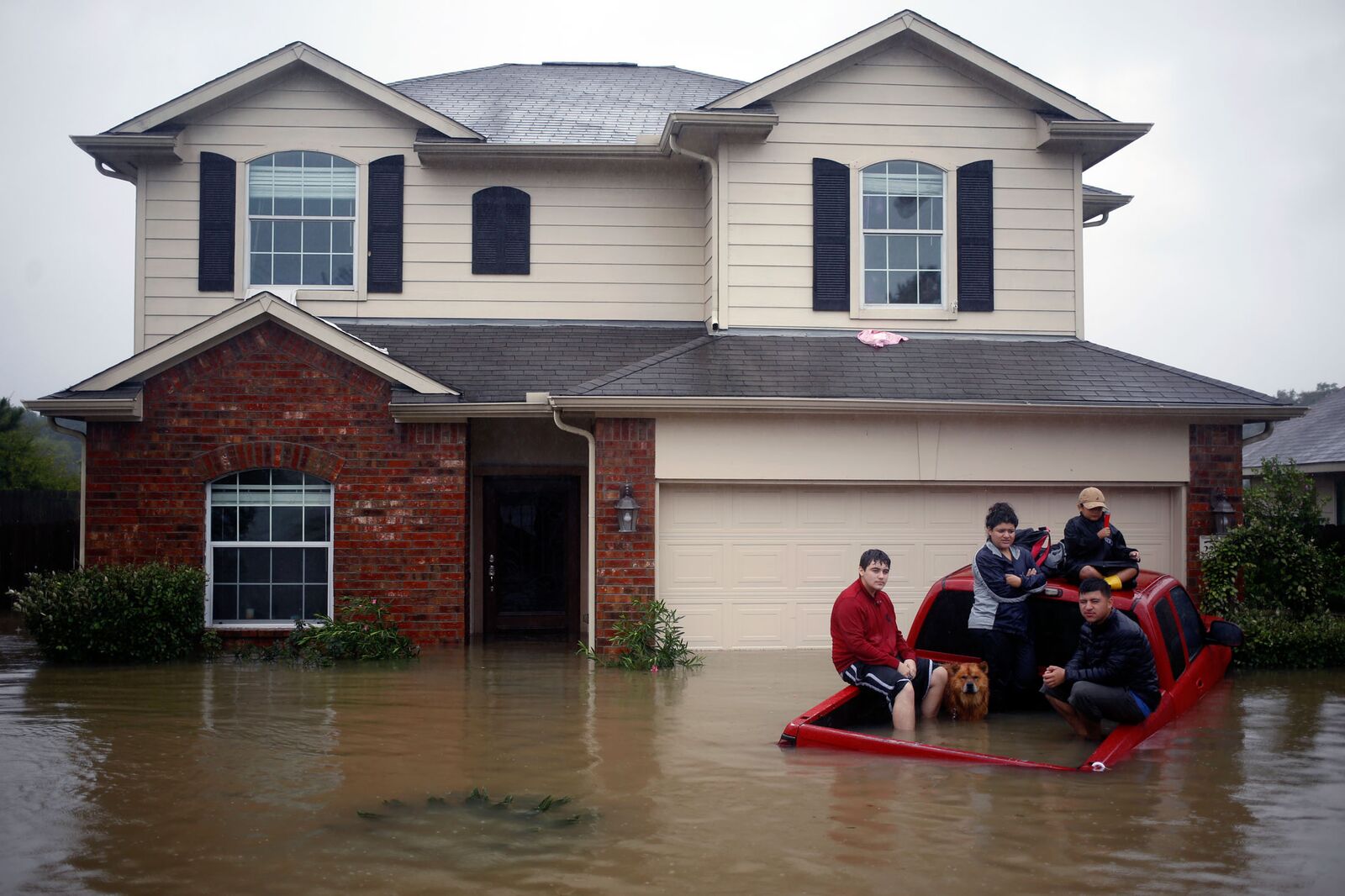 Residents sit in the back of a truck with a dog while waiting to be rescued from rising floodwaters unleashed by Hurricane Harvey in Spring, Texas, on Aug. 28, 2017. 
Photographer: Luke Sharrett/Bloomberg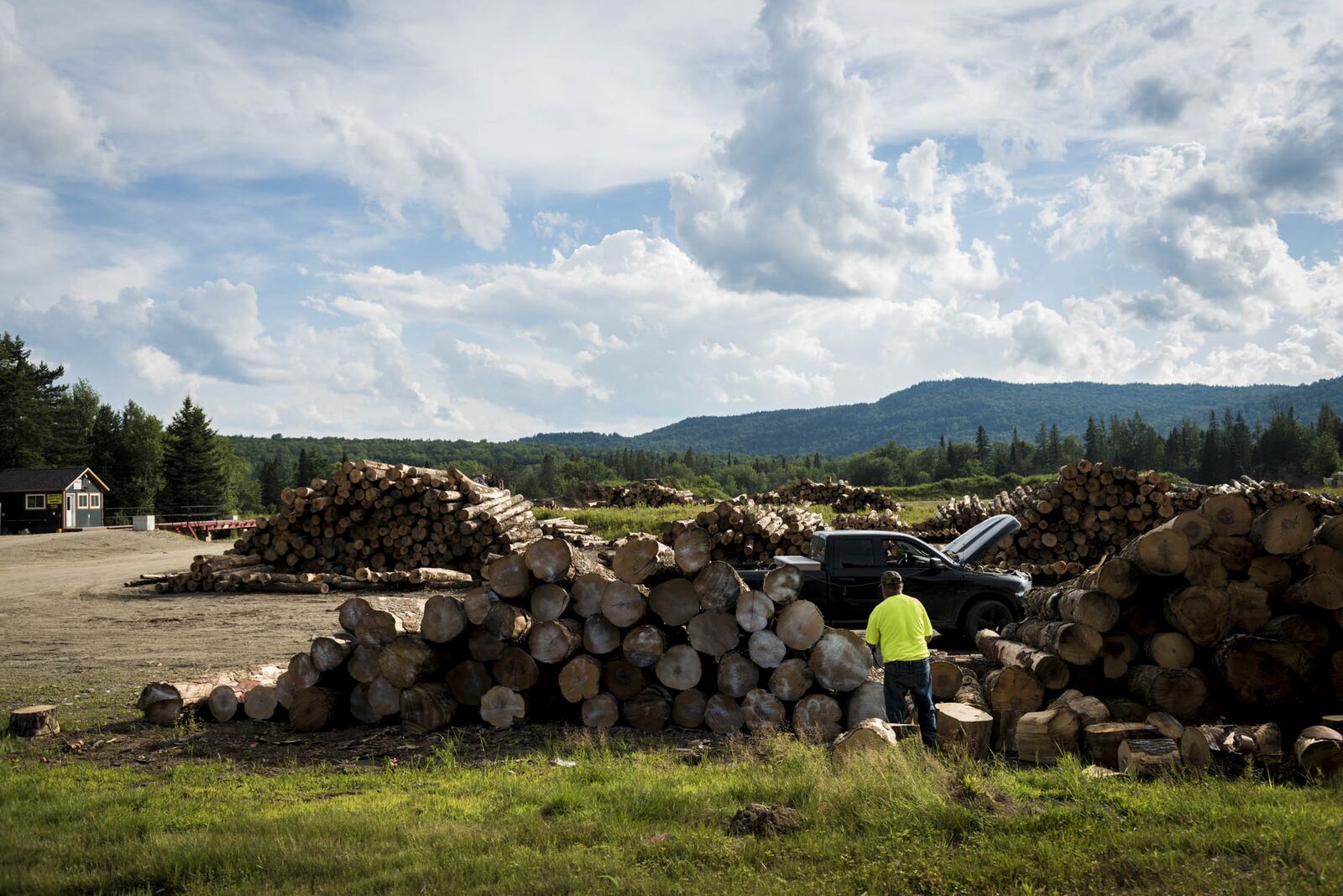 Logs stacked at the yard of Wagner Forest Management Ltd., a company hired to manage Yale University's land in Errol, New Hampshire, on Aug. 10, 2017. For at least two decades, Yale has led a land rush by the richest colleges. Funds snapped up forests as a way to hedge against inflation and the risks inherent in stocks and bonds, as well as to take advantage of endowments' unusual ability to make investments that might not be easy to sell quickly.
Photographer: Ian Thomas Jansen-Lonquist/Bloomberg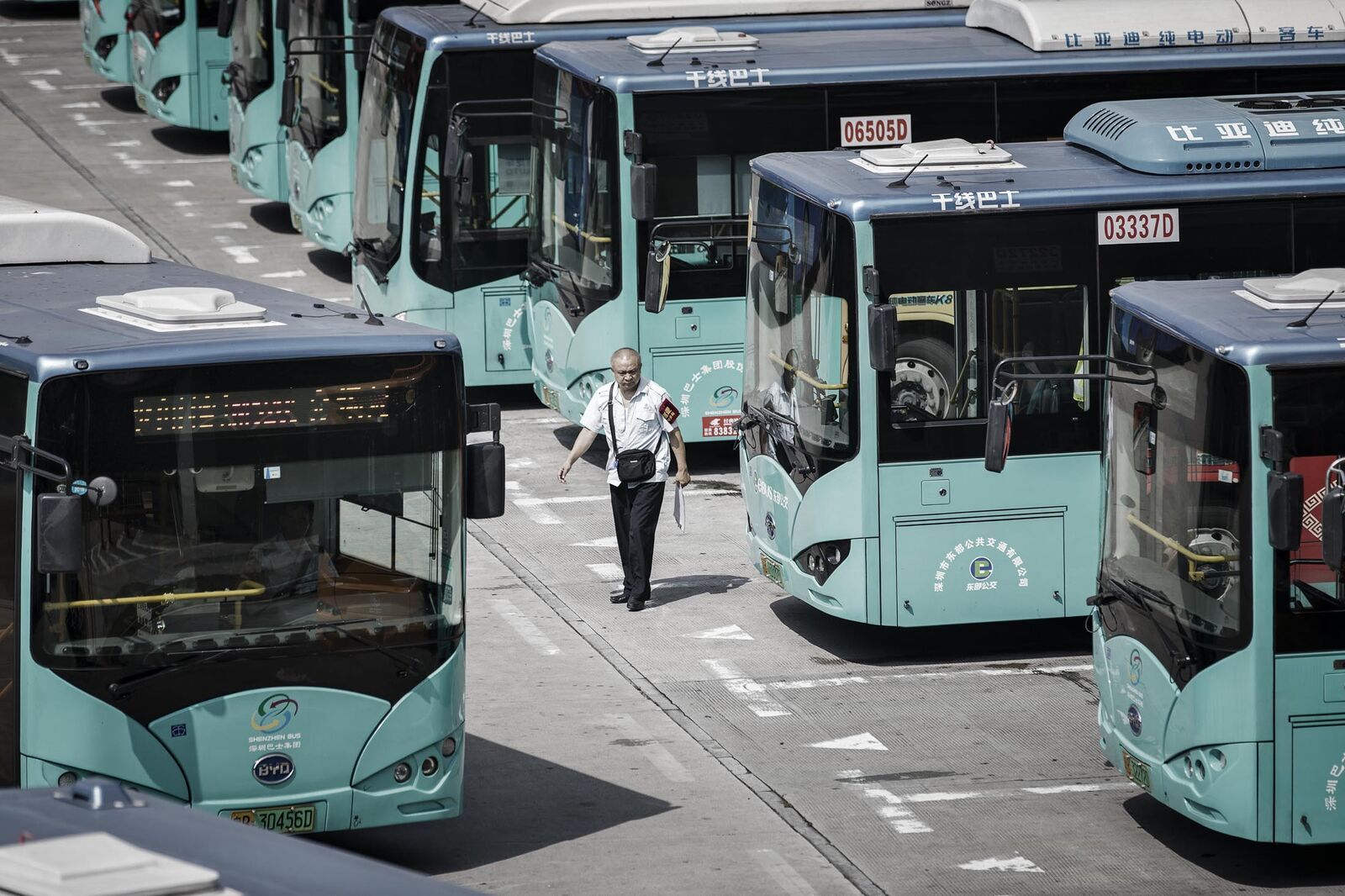 A worker walks past BYD Co. electric buses parked at a public transportation hub in Shenzhen, China, on Sept. 20, 2017. China, the world's biggest auto market, may have all its buses powered by batteries by 2020, with all other vehicles following suit by 2030, BYD Chairman Wang Chuanfu predicts.
Photographer: Qilai Shen/Bloomberg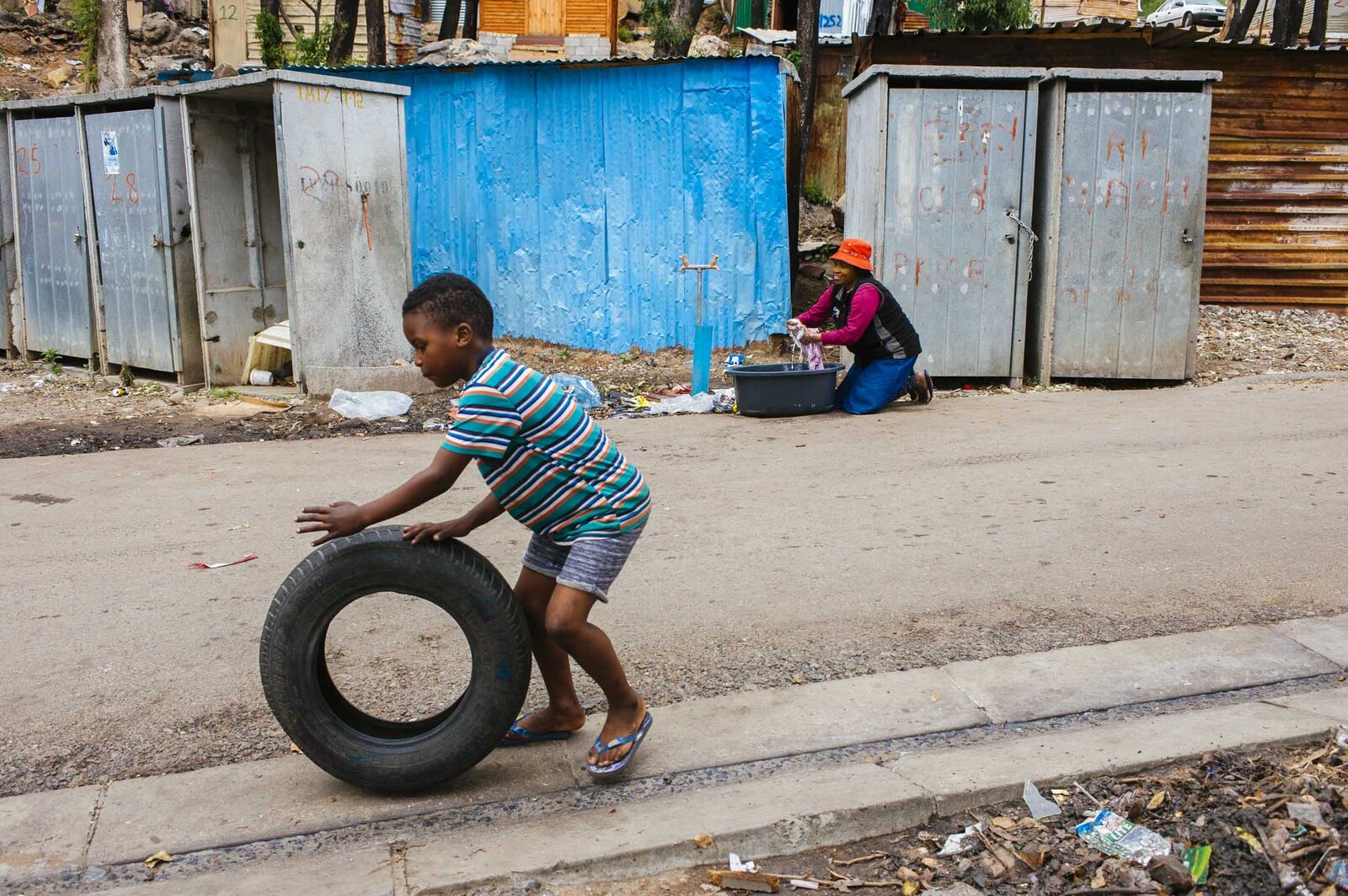 A child pushes a tire as a resident washes clothing in a bucket of water by a communal tap in the Imizamo Yethu township outside Cape Town on Nov. 13, 2017. Cape Town tightened water usage restrictions, banning the use of potable water to irrigate gardens, wash cars or top-up swimming pools as it confronted its worst drought on record.
Photographer: Waldo Swiegers/Bloomberg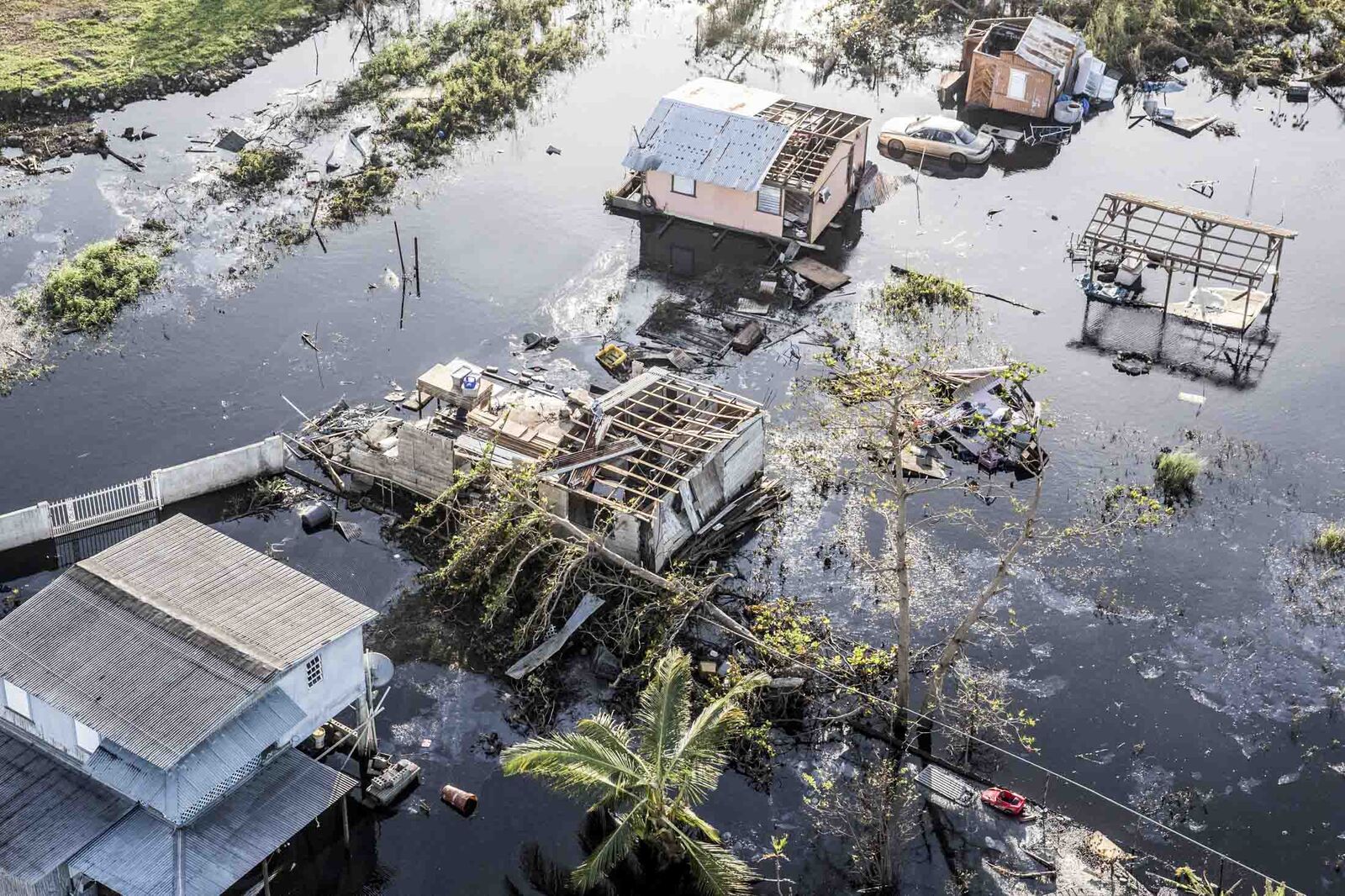 Wrecked homes and vehicles rest in floodwaters in Hamacao, Puerto Rico, on Sept. 25, 2017, after Hurricane Maria devastated the island.
Photographer: Alex Wroblewski/Bloomberg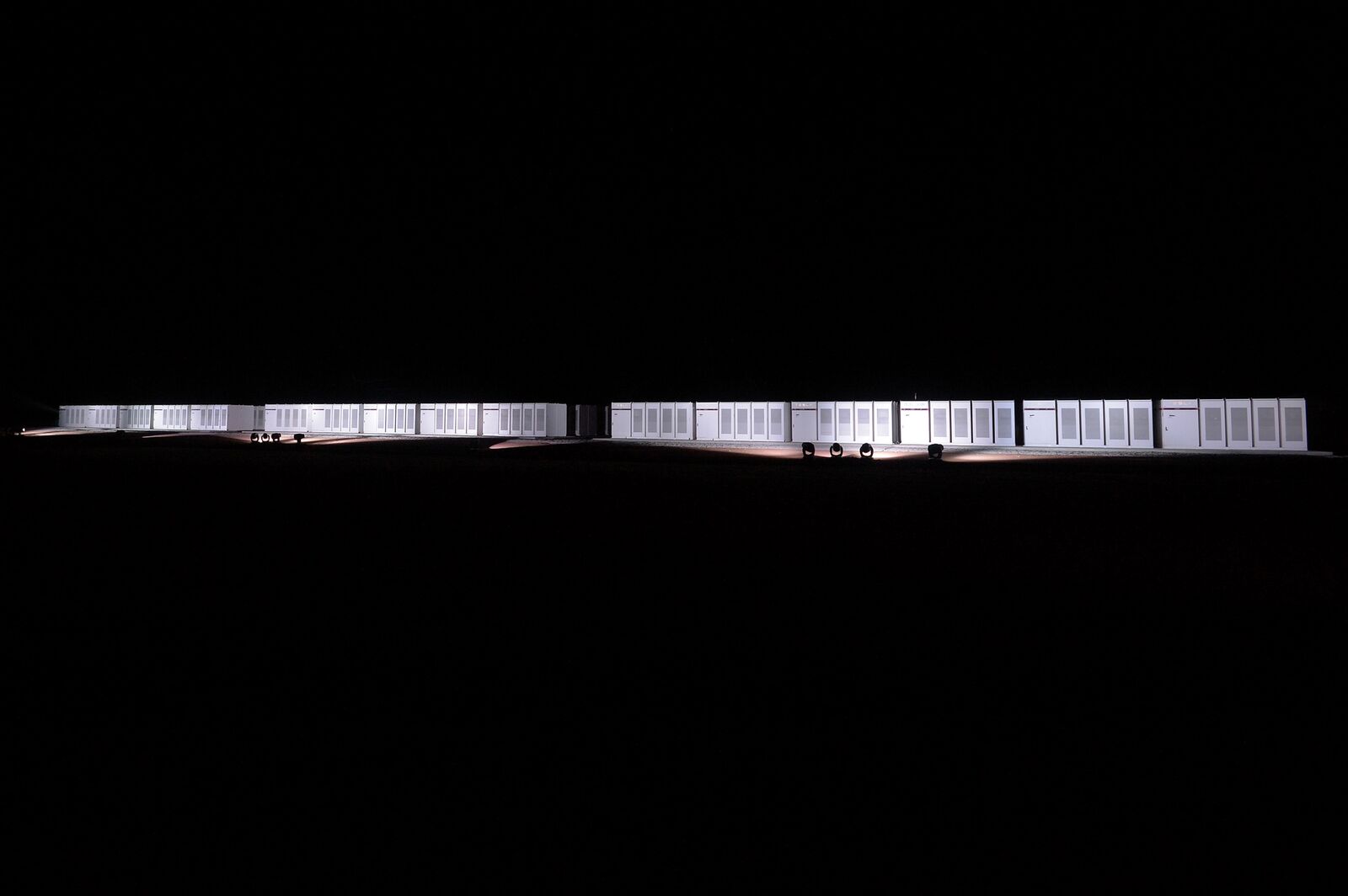 Powerpacks intended to be used to form the world's largest lithium-ion battery are on display during a Tesla Inc. event at the Hornsdale wind farm, operated by Neoen SAS, near Jamestown, South Australia, on Sept. 29, 2017. 
Photographer: Carla Gottgens/Bloomberg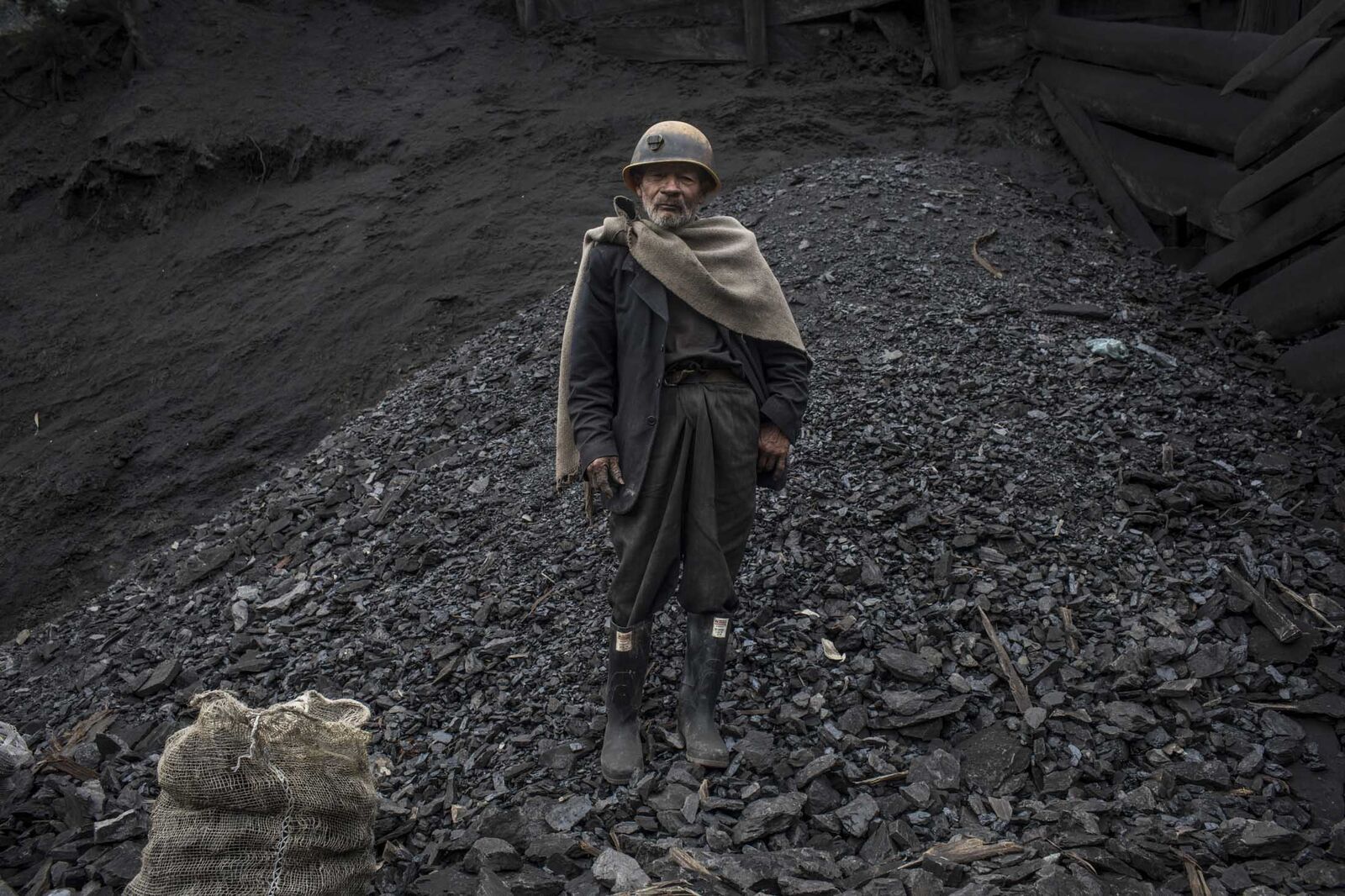 A coal miner named Antonio Velasquez, 70, who is also a musician, stands in Cucunuba, Cundinamarca Department, Colombia, on July, 29, 2017. Colombia is set to produce a record of more than 90 million tons of the fossil fuel this year, its biggest export after oil. Colombia continues to bet on coal, even as global demand tapers off because the world is switching to cleaner fuels.
Photographer: Nicolo Filippo Rosso/Bloomberg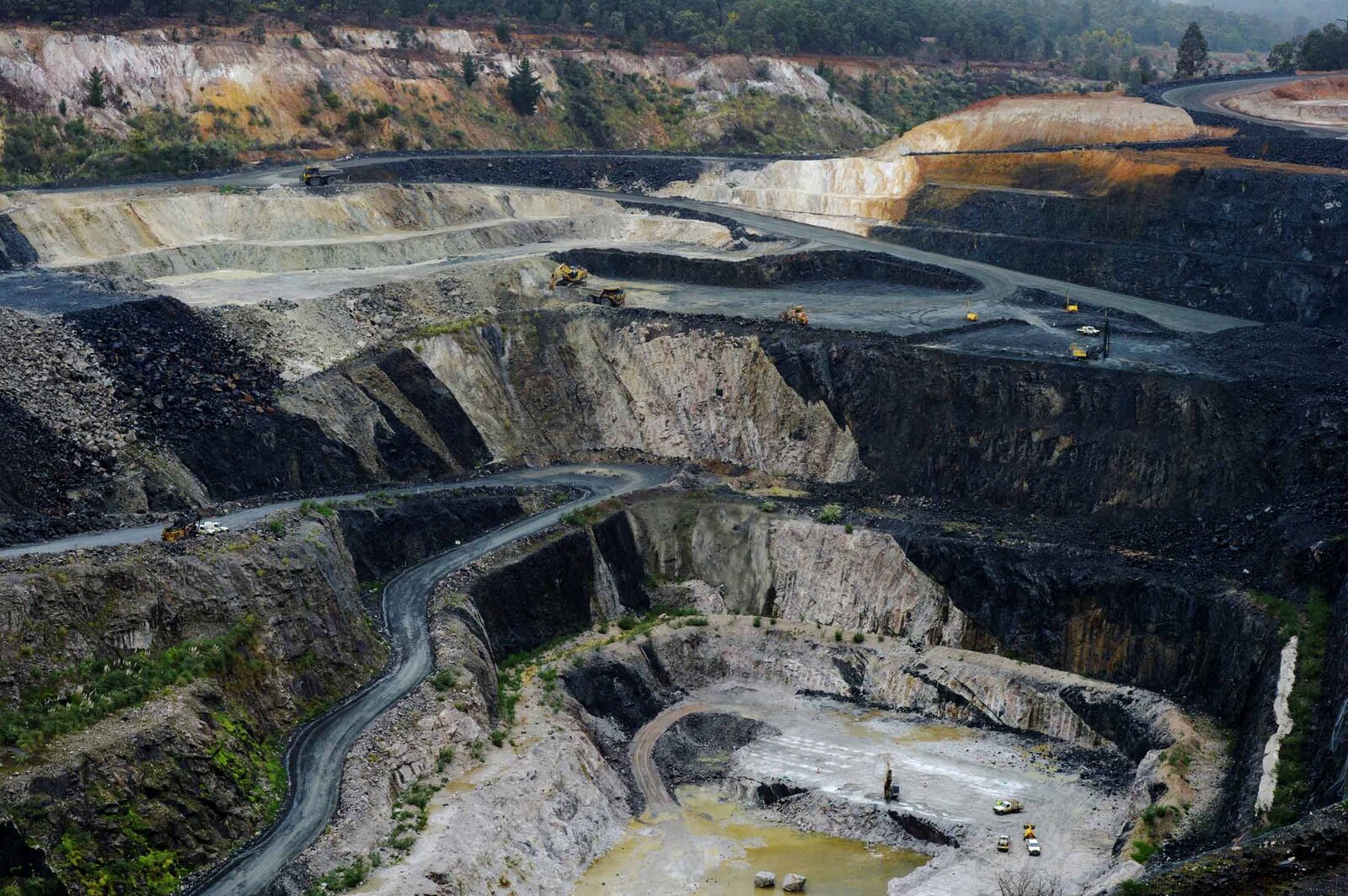 Lithium ore mined in an open pit mine at a Talison Lithium Ltd. site, a joint venture between Tianqi Lithium Corp. and Albemarle Corp., in Greenbushes, Australia, on Aug. 3, 2017. Rising demand in China for lithium-ion batteries needed for electric vehicles and energy storage is driving significant price gains and an asset boom in Australia, already the world's largest lithium producer.
Photographer: Carla Gottgens/Bloomberg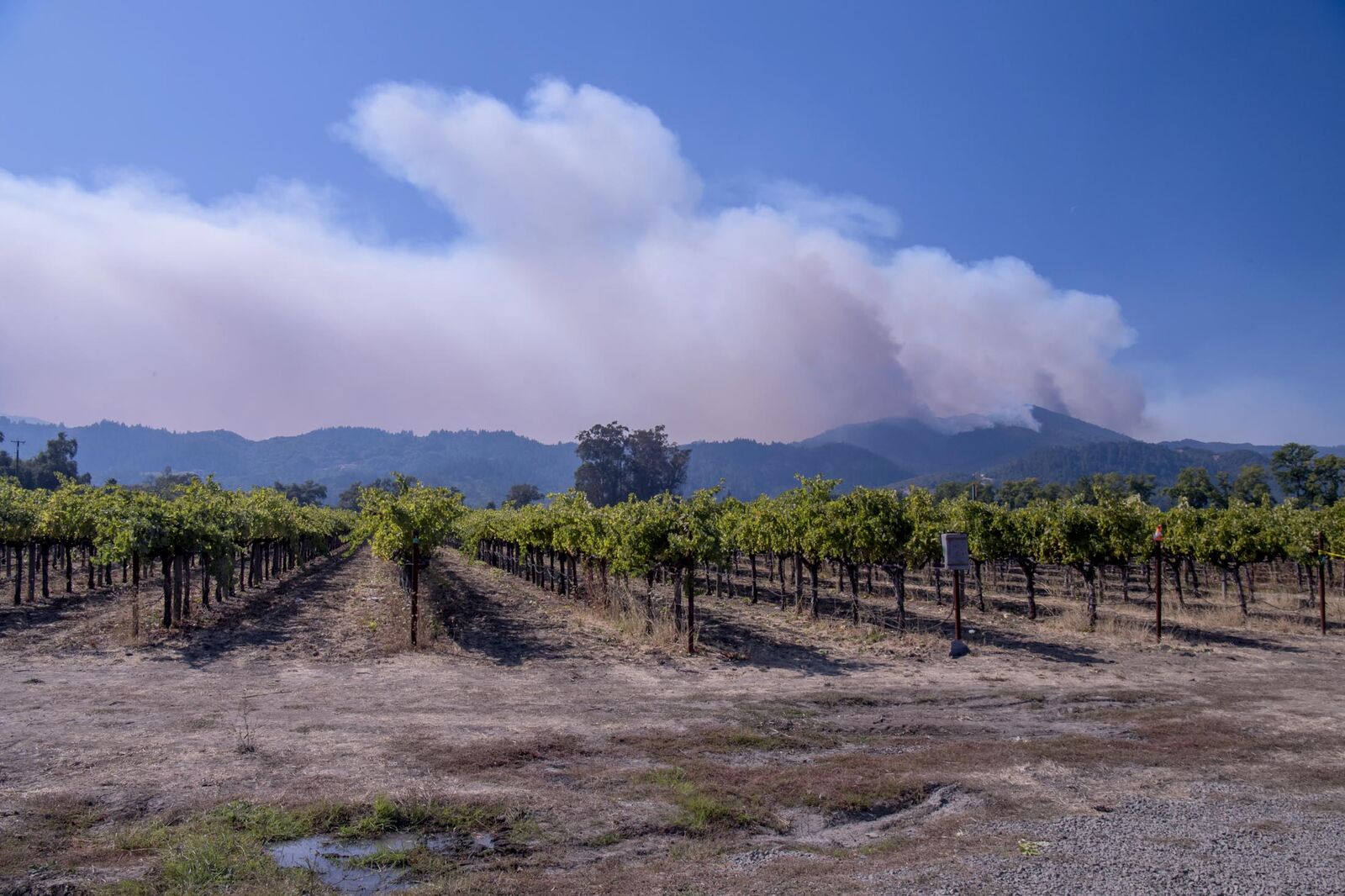 Smoke from wildfires rises above the Rudd Winery vineyard in Napa, California, on Oct. 13, 2017. 
Photographer: David Paul Morris/Bloomberg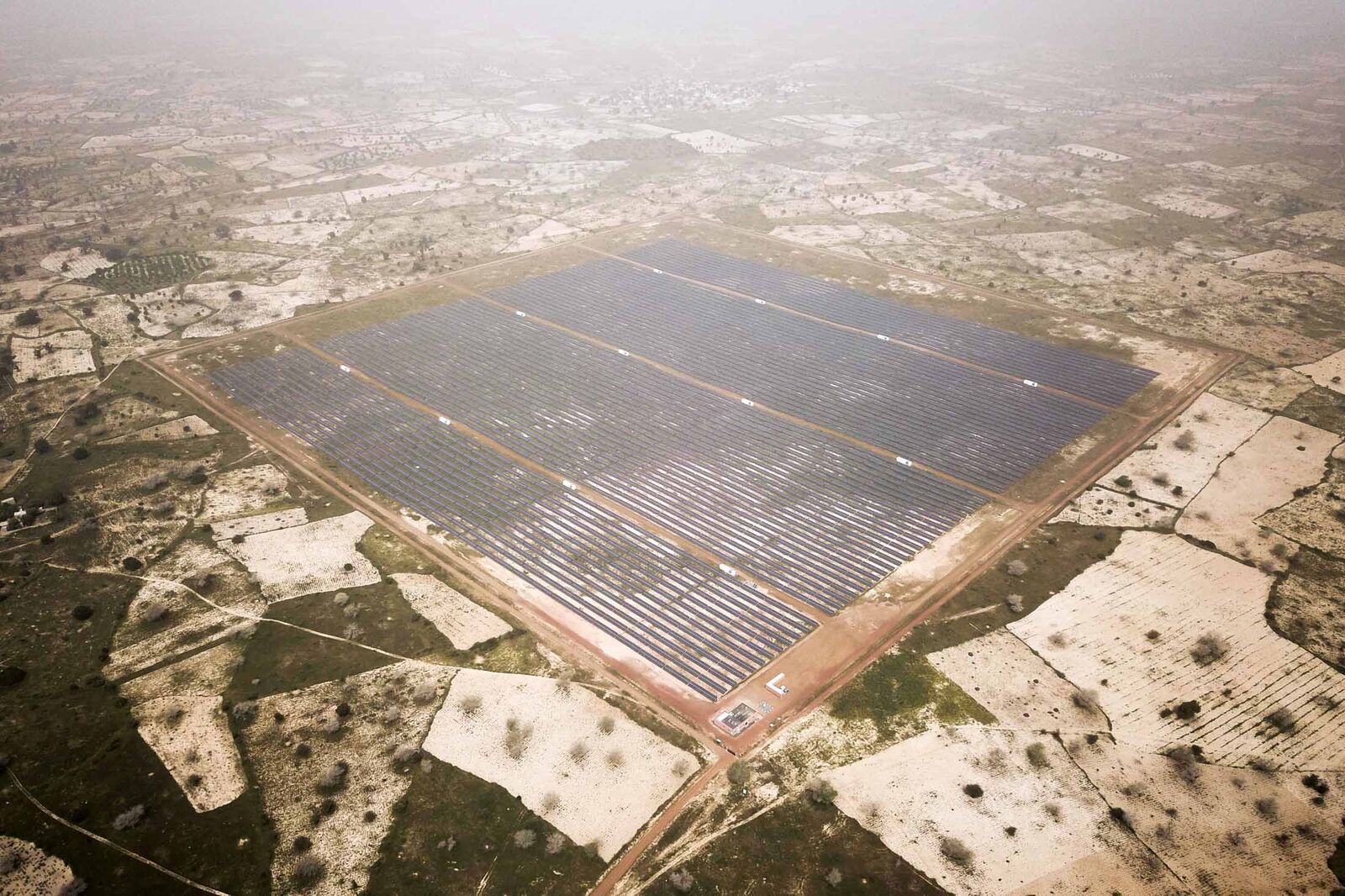 Photovoltaic solar panels at the Senergy Santhiou Mekhe PV solar plant in Thies, Senegal, on Oct. 16, 2017. Electricity produced at the 30-megawatt site, West Africa's largest, will be bought by the Senegal National Electricity Company (Senelec) for its national network.
Photographer: Xaume Olleros/Bloomberg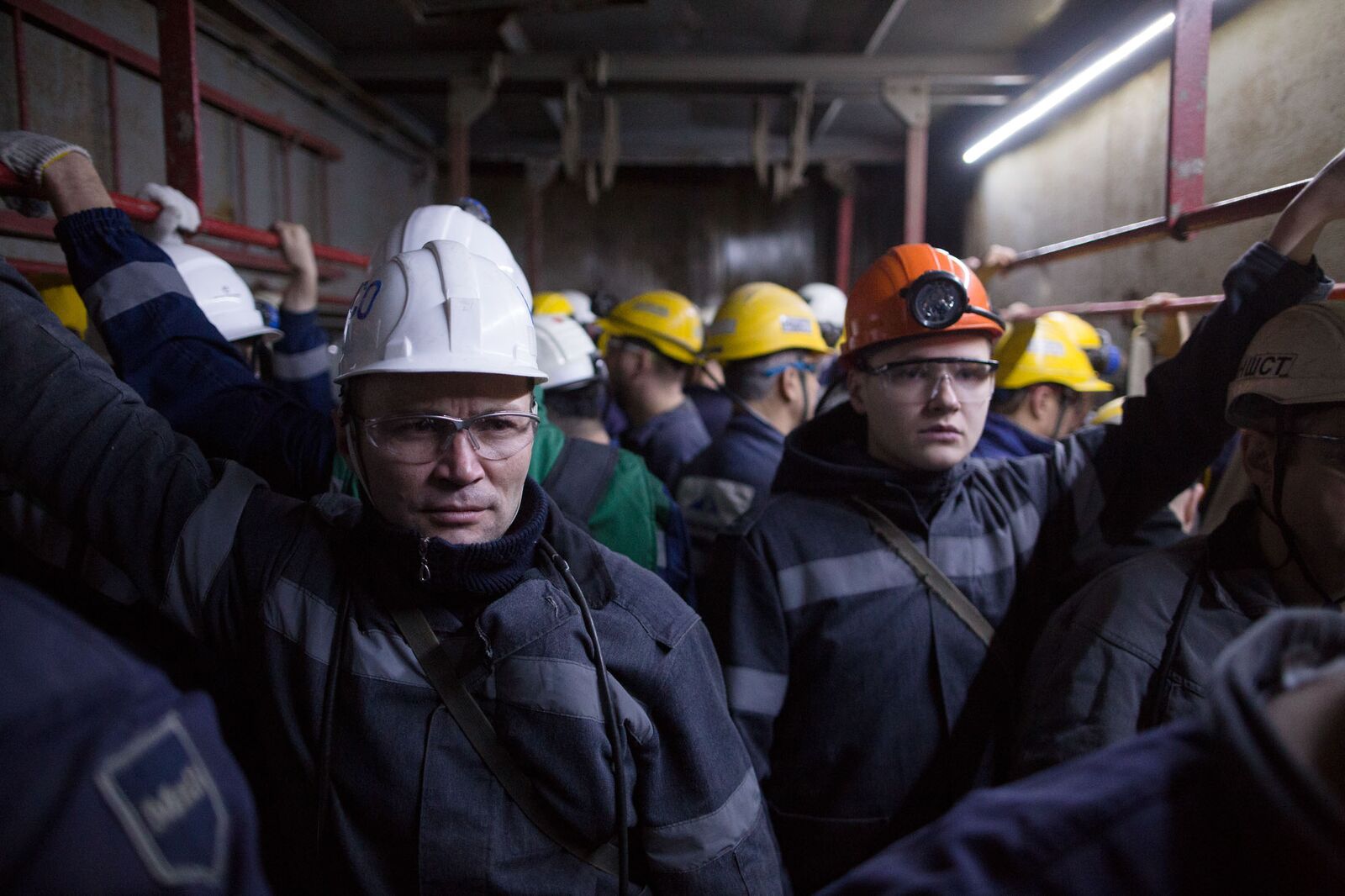 Workers descend in an elevator at the Taymyrsky copper mine, operated by MMC Norilsk Nickel PJSC, in Norilsk, Russia, on Oct. 18, 2017. Norilsk Nickel, which mines the rich deposits of nickel, copper and palladium near Norilsk, has spent 2.5 billion rubles ($40 million) to lay fiber-optic cabling in the Siberian tundra.
Photographer: Andrey Rudakov/Bloomberg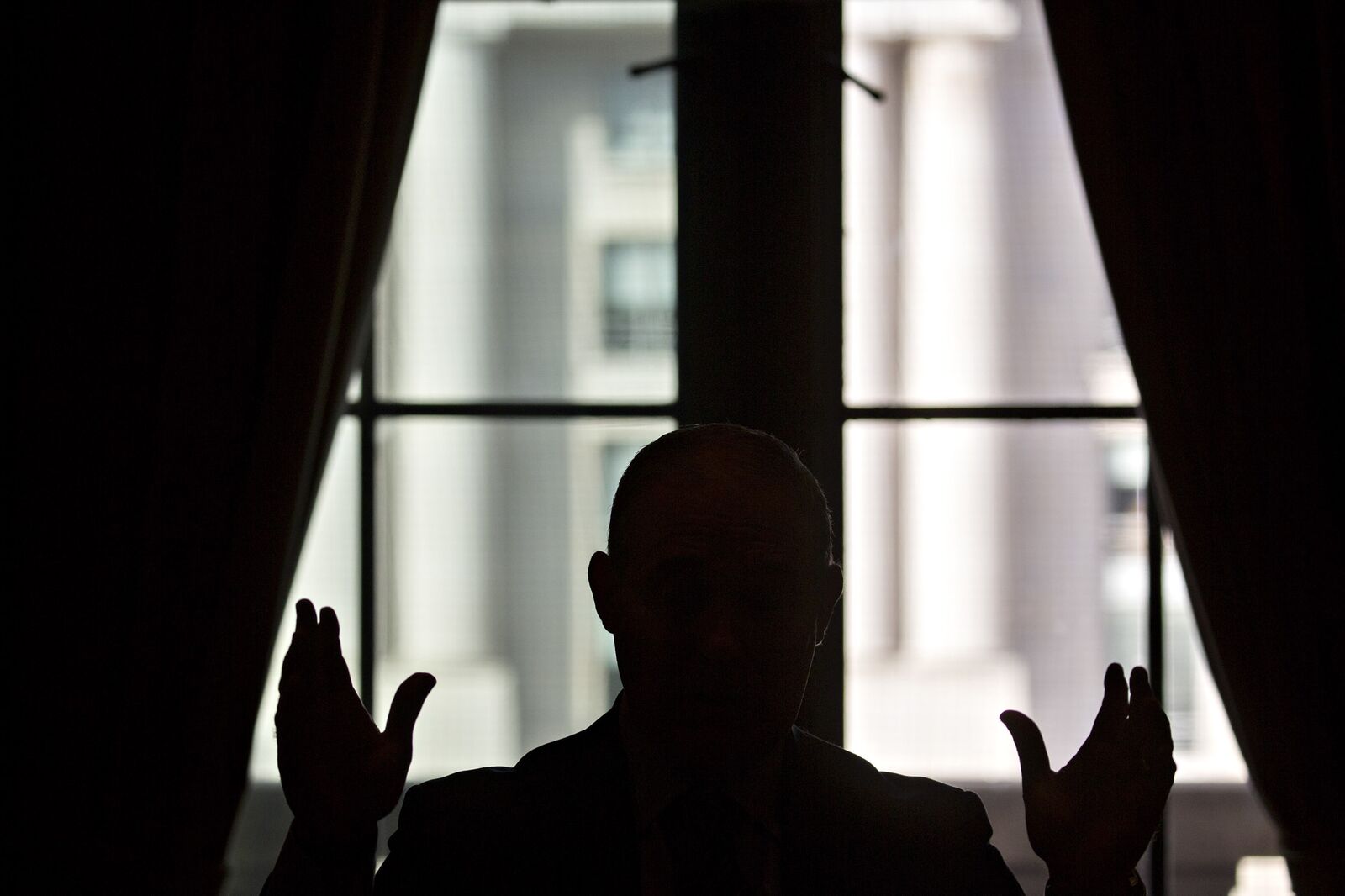 Scott Pruitt, administrator of the Environmental Protection Agency,  speaks during an interview in his office at EPA headquarters in Washington on Oct. 25, 2017. Pruitt vowed to get tough on corporate polluters, dismissing critics who portray him as being cozy with industry.
Photographer: Andrew Harrer/Bloomberg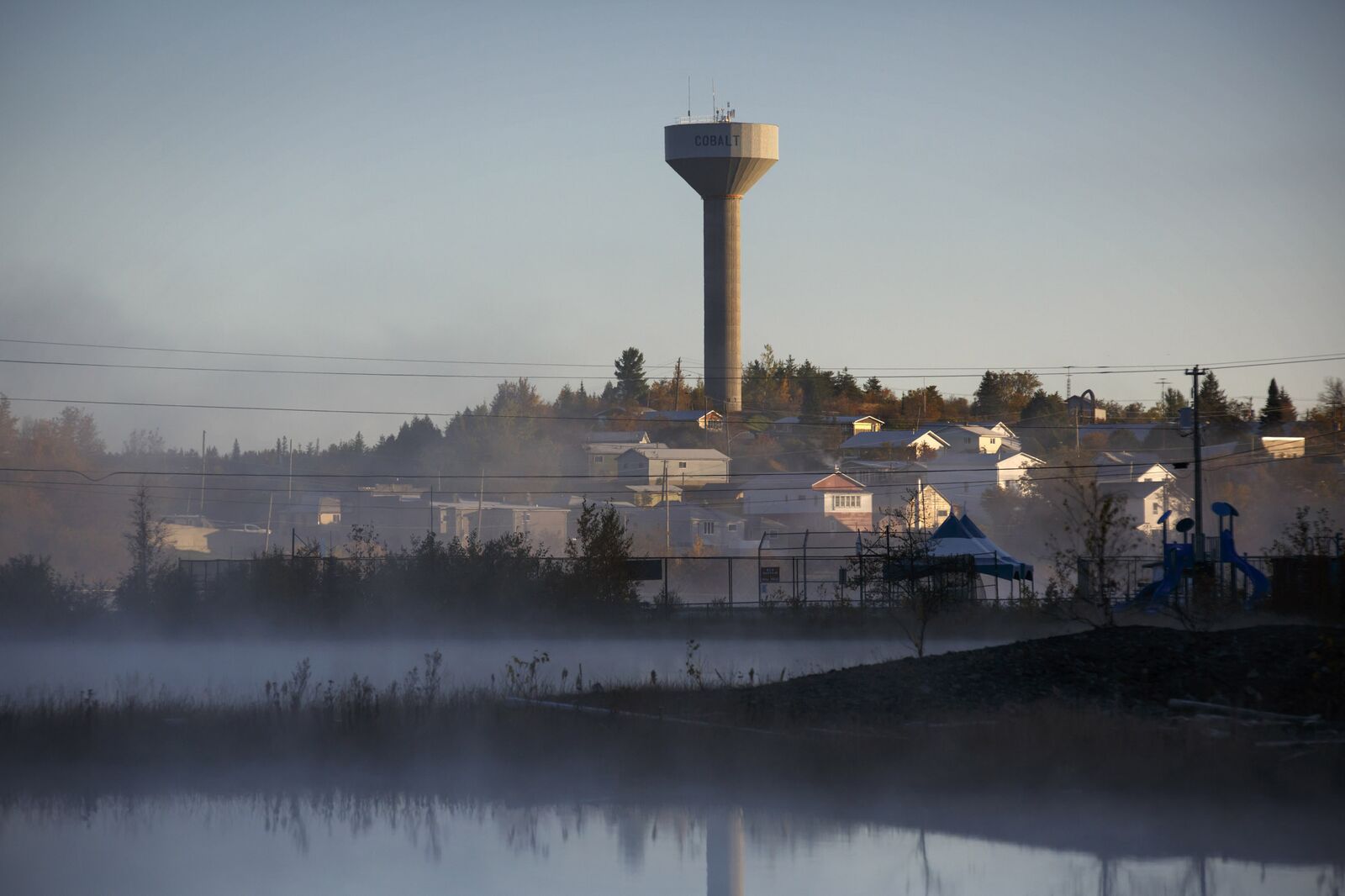 A water tower in Cobalt, Ontario, on Oct. 12, 2017. Global demand for cobalt, a component in batteries used to power electric cars for automakers from Tesla Inc. to Volkswagen AG, is making the metal more important. Cobalt—the Canadian town—is attracting renewed attention as a buffer to rising political risks in the metal's primary source, the Democratic Republic of Congo.
Photographer: Cole Burston/Bloomberg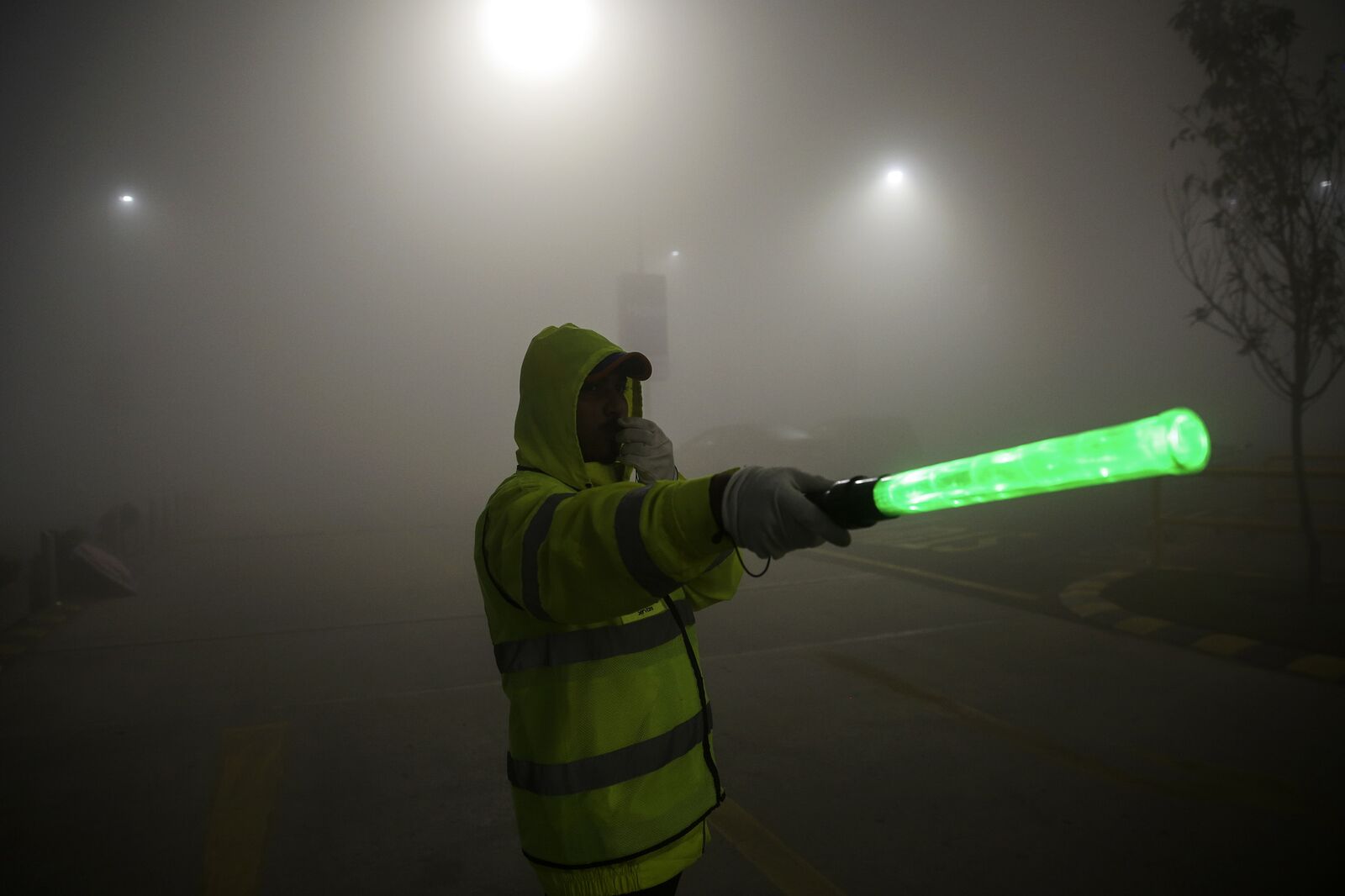 A traffic controller directs vehicles through smog at the Packages Mall parking lot at night in Lahore, Pakistan, on Nov. 13, 2017. Some 1.5 billion inhabitants of both India and Pakistan are increasingly at risk from developing hazards such as air pollution, which is estimated to kill more than half a million Indians and Pakistanis annually; the World Bank has said environmental degradation costs India $80 billion each year.
Photographer: Asad Zaidi/Bloomberg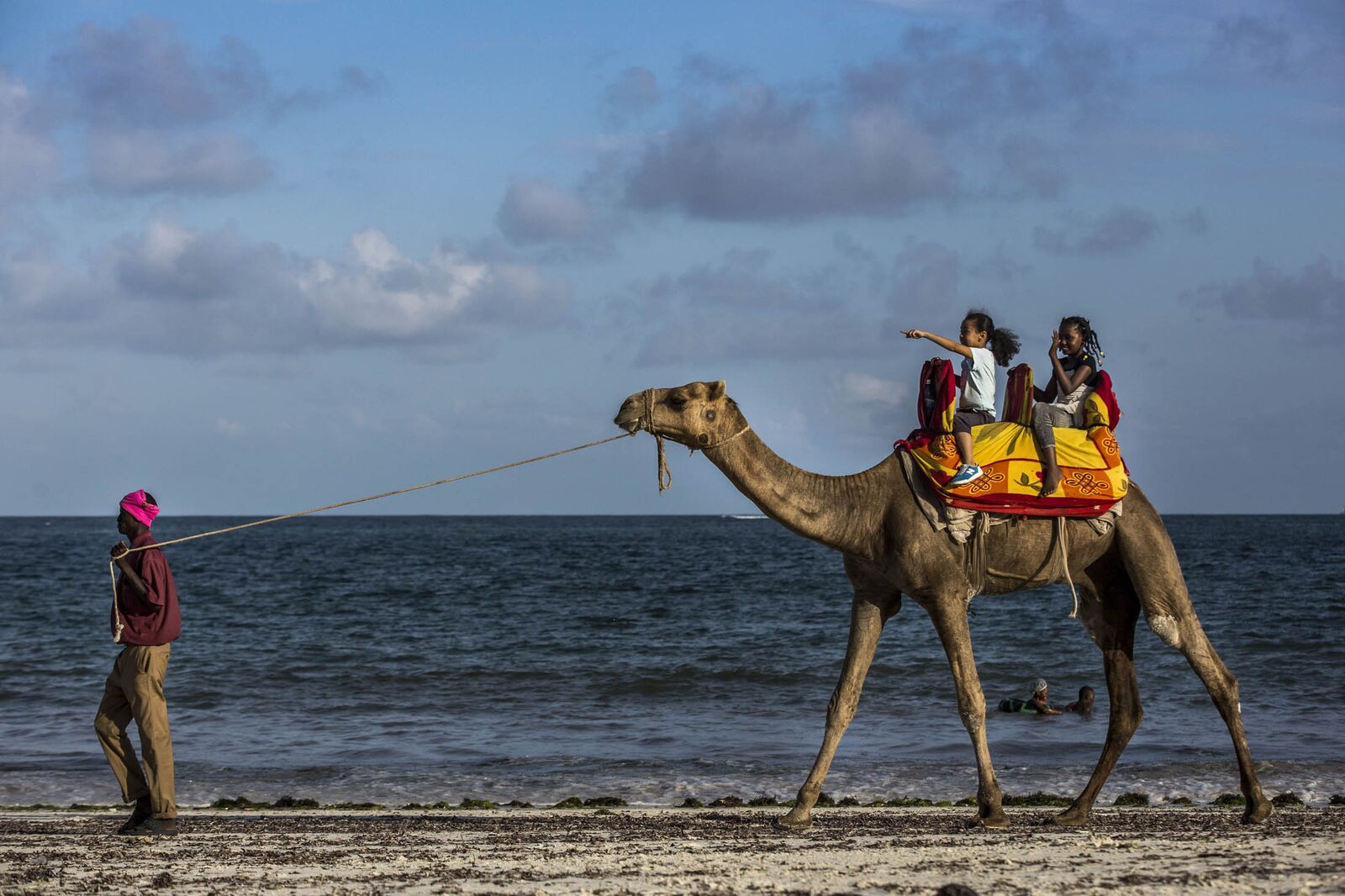 A vendor leads a camel carrying two children along the beachfront in Mombasa, Kenya, on Nov. 23, 2017. Kenya's Treasury cut this year's growth target to 5 percent, from 5.9 percent, as protracted election furor discouraged investment, and a drought curbed farm output.
Photographer: Luis Tato/Bloomberg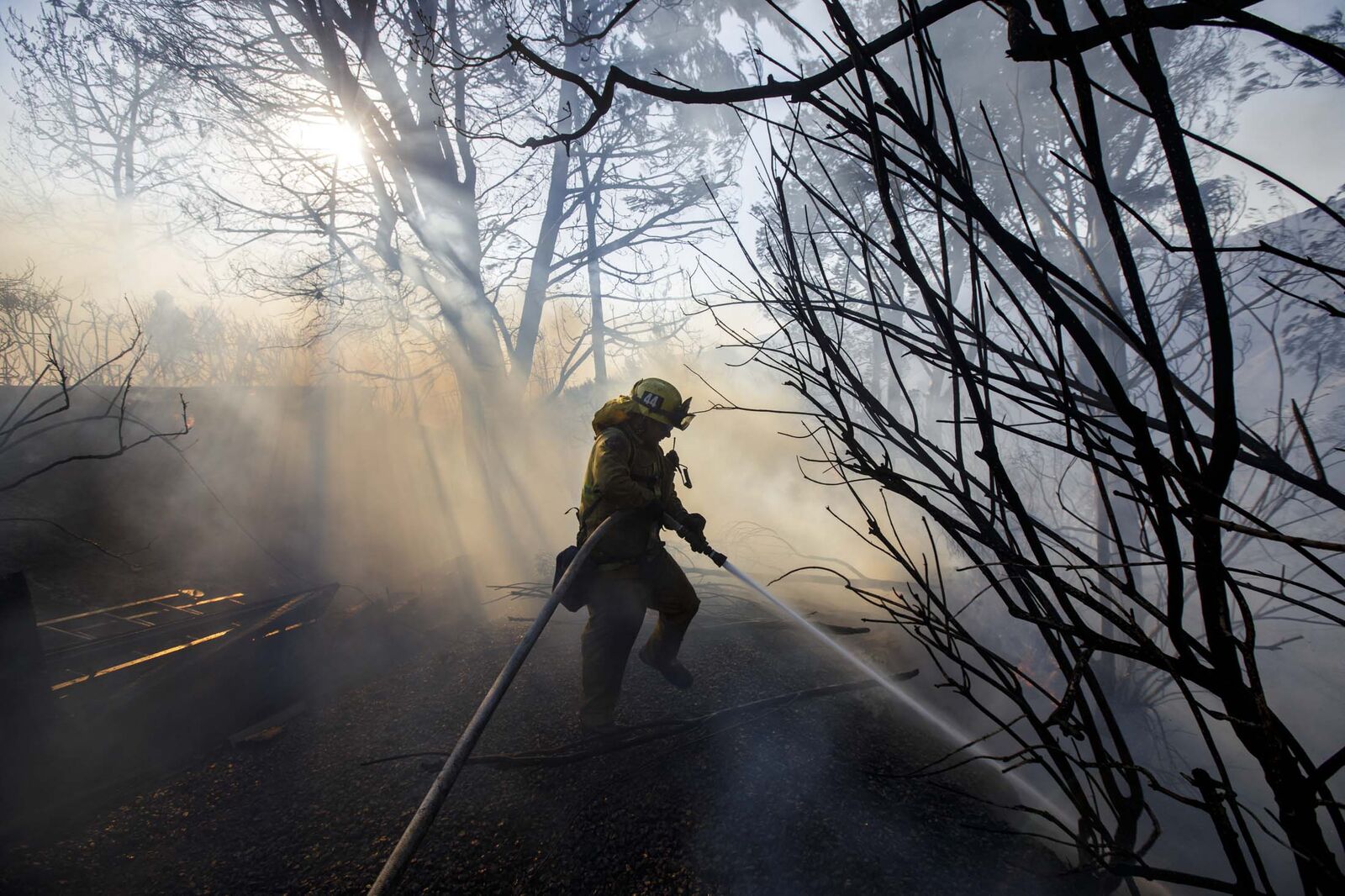 A firefighter hoses down the perimeter of a partially burned home during the Skirball Fire in the Bel Air enclave of Los Angeles on Dec. 6, 2017.
Photographer: Patrick T. Fallon/Bloomberg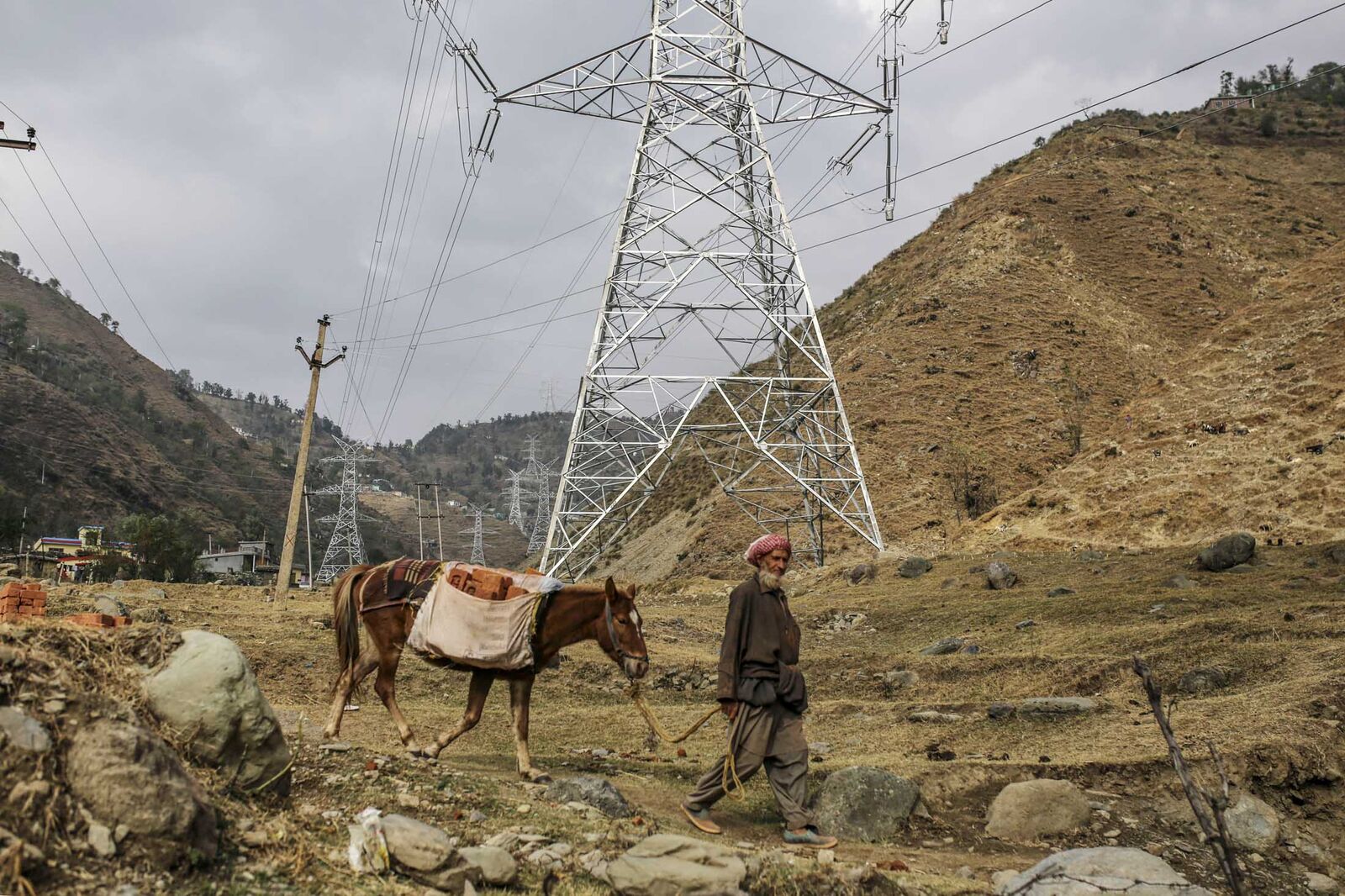 A worker guides a donkey carrying bricks past a Sterlite Power Transmission Ltd. transmission tower in Rajouri district, Jammu and Kashmir, India, on Nov. 16, 2017. Along India's northern border, engineers and construction workers are electrifying one of the country's most violence-prone states.
Photographer: Dhiraj Singh/Bloomberg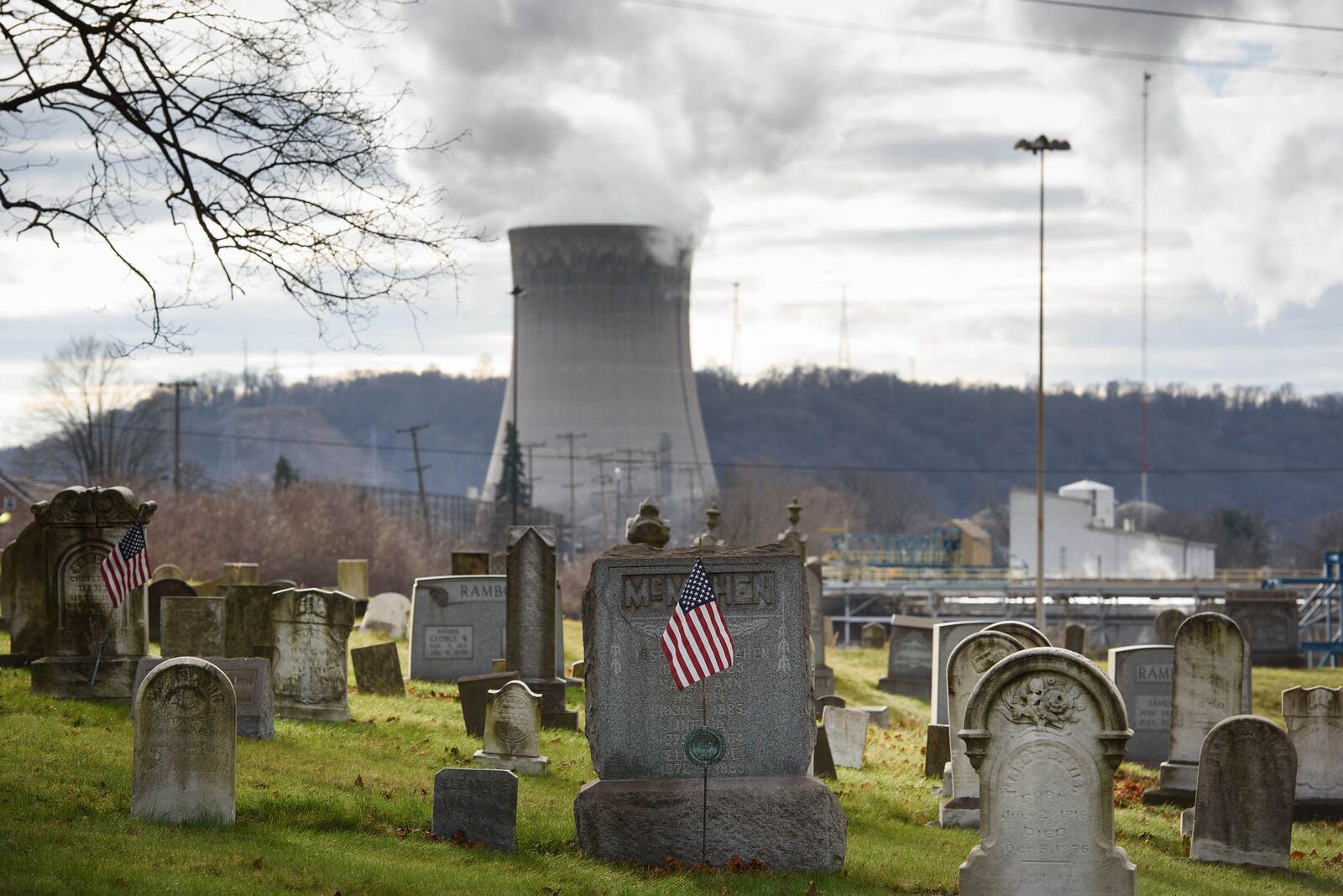 FirstEnergy Corp.'s Bruce Mansfield coal-fired power plant rises behind cemetery headstones at the Bethlehem Presbyterian Church in Shippingport, Pennsylvania, on Dec. 6, 2017. Across the U.S., few places are as dominated by big, centralized power plants as Shippingport. It was here, in the 1950s, that the federal government teamed up with private industry to build the country's first nuclear power plant.
Photographer: Justin Merriman/Bloomberg 
December 20, 2017, 5:00 AM CST
Sign Up for Our Free Global Warming Blog RSS feed by clicking here. About once a week you will automatically get all the best blog stories of the week. (The blog now has thousands of articles.)
Share This Blog Post: If you would like to share this blog post, go to the original shorter version of this post and look to lower right for the large green Share button. Ask them to sign up too for the Global Warming Blog.
Click here
 for information on
 the groundbreaking and disruptive new Climageddon book. It is about the global warming emergency and what you can do to help end it!
To View Our:
 current positions, opinions, agreement or disagreement with this blog article or its facts, 
click here
.