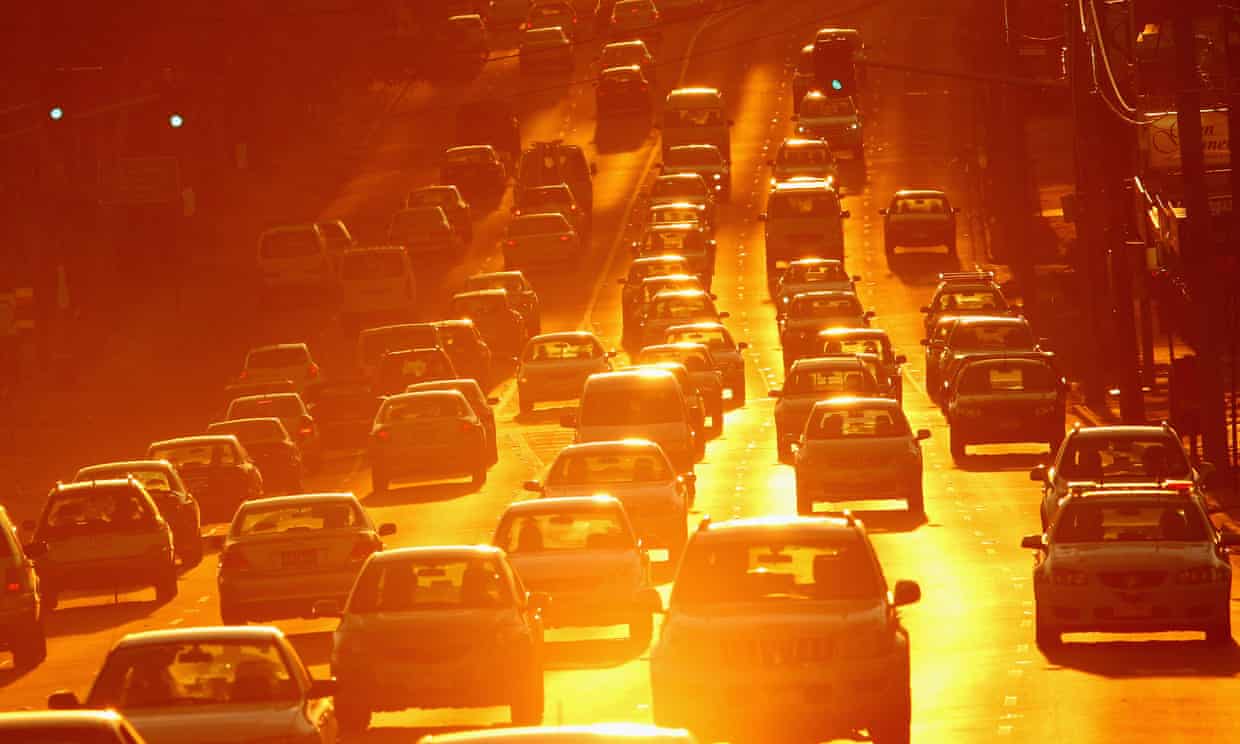 Emissions from transport are at record levels. Photograph: Scott Barbour/Getty Images
Exclusive: Renewable energy and proper climate policy are key to dropping emissions, carbon consultancy chief says...
Australia's emissions over the past year were the highest on record, when relatively unreliable emissions from land use are excluded, according to estimates by the carbon consultancy NDEVR Environmental.
Greenhouse gas emissions continued to rise in recent quarters, with the most recent the second highest for any quarter since 2011, despite electricity emissions being driven down by wind generation.
The government's official public release of data on emissions is now six months behind and NDEVR Environmental's estimations attempt to mirror that methodology. Released in partnership with Guardian Australia, the results have proven very accurate when compared with data eventually released by the federal government.
The ever-increasing emissions are taking Australia further from both its carbon-reduction commitments made in Paris and the much bigger reductions demanded by the science-based targets, recommended by the government's Climate Change Authority.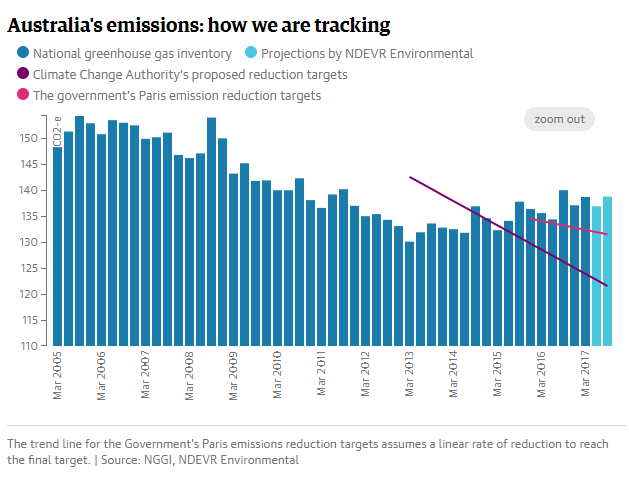 NDEVR found emissions in the most recent quarter soared to levels only seen once in the past six years.
That came despite massive jumps in wind-generated electricity in Victoria and New South Wales, which more than doubled, pushing down emissions from the National Electricity Market.
But emissions from transport were at record levels, with jumps in the use of diesel and aviation fuel.
Emissions in all other sectors either remained stable or increased slightly.
Matt Drum, founder of NDEVR, said their results show carbon emissions are not going to drop until proper climate policy is in place.
He said the drop in emissions from electricity was driven by market forces, not policy. "If you don't foster renewable energy, it's only going to get worse," Drum said.
In both 2015 and 2016, the government quietly released data showing rising emissions on the days before Christmas, with this year's data still not released just two weeks out from Christmas.
And, for the past two years, documents released under freedom of information laws have shown the government has had the data for months before releasing it.
"They might drop it just before Christmas again but it's not much of a Christmas present for Australia's emission profile and it goes to show that Australia's climate policy needs a lot of work," Drum said.
Last week, the Climate Council called on the government to end what it called "climate censorship".
"At a time when Australia's federal climate and energy policy remains in limbo, it has never been more important for transparent pollution information," the Climate Council chief executive, Amanda McKenzie, said. "Continuing to keep the information hidden just raises questions about what there is to hide.
"For several years, there's been a consistent delay from the Department of the Environment and Energy's national greenhouse gas inventory on releasing vital emissions data. This raises serious questions over the federal government's transparency on Australia's pollution levels."
Sunday 10 December 2017 12.00 EST
source: https://www.theguardian.com/us
original story HERE
Sign Up for Our Free Global Warming Blog RSS feed by clicking here. About once a week you will automatically get all the best blog stories of the week. (The blog now has thousands of articles.)
Share This Blog Post: If you would like to share this blog post, go to the original shorter version of this post and look to lower right for the large green Share button. Ask them to sign up too for the Global Warming Blog.
Click here
 for information on
 the groundbreaking and disruptive new Climageddon book. It is about the global warming emergency and what you can do to help end it!
To View Our:
 current positions, opinions, agreement or disagreement with this blog article or its facts, 
click here
.